Walker Dislikes Job Numbers, So He Puts Out New Version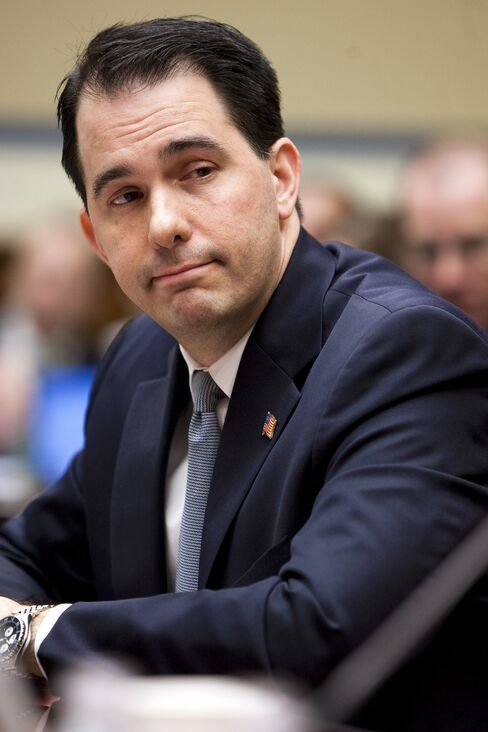 When Wisconsin job numbers compiled by the U.S. government were on the upswing last year, Governor Scott Walker traveled to Milwaukee to tout them as proof that he was turning around the state's economy.
Now that Bureau of Labor Statistics figures have shown for months that the state is losing more jobs than any other, Walker, a Republican who faces a June 5 recall election, released his own numbers today. They say that the state gained 23,321 jobs last year instead of losing 33,900, as the bureau reported.
Walker's estimation came the day before the bureau is to update the state's employment portrait. Walker promised to create 250,000 jobs by the end of his first term in 2014.
"The actual data clearly shows that Wisconsin gained thousands of jobs in 2011," Walker said in a statement today. "Now, the unemployment rate is the lowest it has been since 2008."
The rate dropped to 6.8 percent in March from 7.7 percent in January 2011. The national rate in March was 8.1 percent.
Walker's Democratic opponent, Milwaukee Mayor Tom Barrett, dismissed the governor's numbers as a political concoction.
Worst in Class
"Walker is desperate to distract from his worst-in-the-country jobs record," Phil Walzak, the campaign's communications director, said in a statement from Milwaukee.
Wisconsin was ranked last among states and the District of Columbia in economic health in 2011, the first year of Walker's tenure, according to the Bloomberg Economic Evaluation of States.
With less than three weeks before the recall election, job-creation has become the dominant issue.
"The governor set himself up," said Andy Feldman, director of BadgerStat, a nonpartisan statistical website that measures Wisconsin's governmental performance. "The 250,000-jobs promise was a ploy, and he's set himself up by creating the focus on a goal over which he has very little control."
The recall, which grew out of protests against curbs on collective bargaining for most public employees, is a replay of the 2010 contest, in which Walker defeated Barrett by about 125,000 votes.
Steven Deller, an economics professor at the University of Wisconsin-Madison, said Walker's budgetary austerity and a "tremendous amount of uncertainty" generated by the recall "have kind of put the brakes on the state economy."
Clamping Down
"It's businesses, it's households -- people simply don't know what's going to happen," Deller said. "And what do you do when you don't know what's going to happen? You pull back."
The Walker administration has complained that federal data don't reflect improvement in the state's jobless rate.
"Our workforce has actually been expanding over the last six months," John Koskinen, chief economist at the Wisconsin Revenue Department, said in a May 10 speech to the Association of Government Accountants.
In July, there were no objections when the federal government reported the biggest month-over-month job gains the state had seen in almost eight years.
"To have 9,500 net new jobs in the state at a time when the country saw just 18,000 net new jobs all across the country is incredibly good news," Walker said July 21 in Milwaukee.
Feldman, in a telephone interview from Madison, said jobs numbers are bound to be "mostly political fodder" with less than three weeks remaining before the election.
"Numbers and statistics delivered in a very partisan atmosphere are completely seen through the lens of a political party," Feldman said. "Imagine what Republicans would be saying if the jobs numbers were weak and it was Governor Barrett who had won two years ago? They'd be screaming."
Before it's here, it's on the Bloomberg Terminal.
LEARN MORE