Rajoy Calls for Euro Defense as Spain Risks Credit Crunch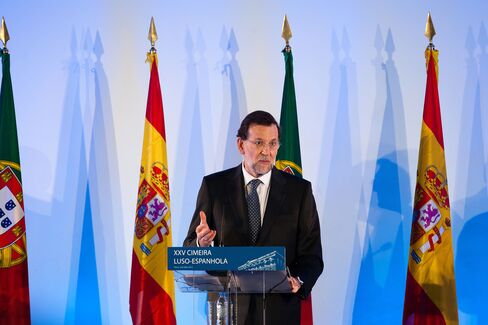 Spanish Prime Minister Mariano Rajoy called on the European Union to take measures to support public debt sustainability as the euro area's fourth-biggest economy risks being shut out of financial markets.
"I would like a clear, strong message in defense of the euro project and an affirmation of the sustainability of the public debt of all the European countries that are subject to discussion at the moment," Rajoy told reporters in comments carried on state broadcaster TVE today.
Rajoy said there is a serious risk that investors will stop lending to Spain or charge "astronomical prices" after the extra yield investors demand to hold Spanish debt instead of German bonds widened to a euro-era record of 5.07 percentage points amid investors' concern about banks' bad assets and a possible Greek exit from the euro area.
"I'm in favor of each country doing its homework and meeting its commitments, absolutely in favor, and I'm in favor of Europe talking about growth policies," Rajoy said. "But I think the priority is the sustainability of public debt."
The yield on Spain's benchmark 10-year bond rose as high as 6.51 percent today, compared with less than 5 percent in early March before Rajoy's People's Party government said the country will miss its 2012 budget deficit target. Borrowing costs rose as the Spanish Treasury aims to sell as much as 2.5 billion euros ($3.2 billion) in bonds maturing in 2015 and 2016 tomorrow.
Spanish Bonds
Spain consults the EU on all measures it is taking to contain the crisis, Budget Minister Cristobal Montoro said at a conference today.
"We don't need more pressure," he said. "Everything the government does is in coordinating with the European institutions, with our European partners."
Spanish bonds tumbled along with debt of other high-deficit nations, with Greece facing a fresh election on June 17 that may boost parties opposed to the conditions of its international bailouts. Italy's 10-year yield rose above 6 percent for the first time since January, while Greece's topped 30 percent, the most in more than two months. German 10-year yields approached an all-time low as investors sought safer assets.
'Nothing to Hide'
Spanish Economy Minister Luis de Guindos yesterday ruled out requesting aid from the EU for the nation's banks even as the fourth attempt in less than three years to clean up the country's lenders failed to rebuild confidence.
"There is nothing to hide," de Guindos said. An independent audit of banks' loans conducted with the participation of the European Central Bank will give clarity on their solvency, he said.
Bankia extended declines in Madrid trading today, losing 10.6 percent at 4:16 p.m. Frankfurt time.
Spain's government said on May 11 it would require banks to set aside about 30 billion euros to cover potential losses on real estate loans that are still performing. That's on top of 53.8 billion euros of charges and capital ordered in February.
"All the measures we are currently taking are to lift us out of a pit," Rajoy said, defending 27 billion euros of spending cuts and tax increases to be implemented this year to cut the budget deficit to 5.3 percent of gross domestic product from 8.5 percent last year.
The goal was agreed to by euro-area finance ministers in March instead of a previous target of 4.4 percent as the country faces its second recession since 2009.
Spending cuts "are what decides whether we can finance ourselves or not," Montoro said. "What we are going to see in Spain are the welfare cuts of a country that can't finance itself if we don't do what we have to do."
Before it's here, it's on the Bloomberg Terminal.
LEARN MORE