Martin Marietta Falls Most Since 2008 After Einhorn Comments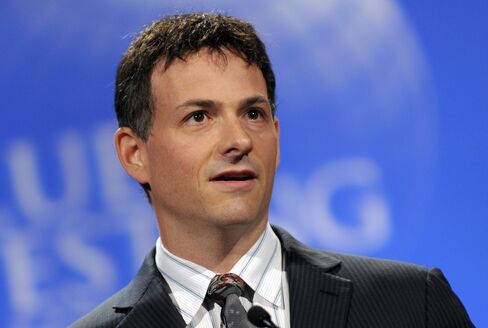 Martin Marietta Materials Inc. plunged the most in three years, triggering a halt in trading, after Greenlight Capital Inc. Chairman David Einhorn questioned future profits at the sand-and-gravel producer.
"Recent earnings benefited from one-time fiscal stimulus that is about to wind down," Einhorn, 43, said at a conference in New York. He cited "problems" at the Raleigh, North Carolina-based company after a court ruling forced it to withdraw a hostile bid for larger rival Vulcan Materials Co.
Most companies that "rely heavily on government funding" trade at lower price-earnings ratios than Martin Marietta, Einhorn said. Known for short-selling Lehman Brothers Holdings Inc. before the firm's 2008 collapse, Einhorn has more recently put pressure on companies such as Green Mountain Coffee Roasters Inc., questioning its accounting disclosure in October.
Martin Marietta's ratio is 31.3, according to data compiled by Bloomberg. The shares slid 8.2 percent to $68.60 at the close in New York, the biggest drop since December 2008. Vulcan fell 8.1 percent to $35.26, the biggest decline since August 2010.
The company's all-stock offer for Vulcan, the biggest U.S. sand and gravel company, had to be withdrawn this week after a Delaware judge's May 4 ruling that Martin Marietta broke a confidentiality agreement signed in 2010 when the companies began friendly talks. The judge enjoined the hostile offer for four months.
Martin Marietta's unsolicited offer was valued at $4.7 billion when it was announced Dec. 12. Vulcan's board rejected the bid, saying it was too low, overstated potential cost savings and didn't account for asset sales the Department of Justice may order.
Before it's here, it's on the Bloomberg Terminal.
LEARN MORE