Small Wind Farms to Grow as U.S. Tax Incentives Expand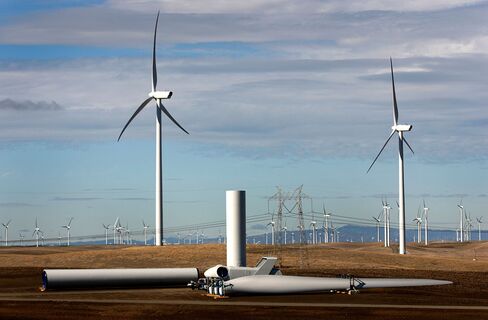 Installations of wind farms with less than 20 megawatts of capacity may rise to a record this year if lawmakers expand a federal tax credit.
At least 44 wind farms were built last year to serve individual U.S. communities, often with financial support from local residents. They made up 6.7 percent of the total capacity installed, up from 5.6 percent in 2010 and the most to date, according to data compiled by the American Wind Energy Association.
"The wind industry is probably going to install more capacity this year than it ever has," Jacob Susman, chief executive officer of OwnEnergy Inc., a New York-based developer of community wind farms, said in an interview yesterday. "And community wind is the fastest-growing segment within wind."
Community wind farms generally have no more than 20 megawatts of capacity. Local residents often are involved in the development and are typically offered the opportunity to invest in the projects, according to AWEA. Projects as large as 100 megawatts may also be considered community wind farms if local residents own at least 33 percent.
Backers tend to be focused on creating a local energy source and may be less concerned about financial returns than developers of larger wind farms, said Marguerite Wells, project manager of Black Oak Wind Farm, a 20-megawatt project under construction in upstate New York.
"Being given the opportunity to participate gives people a different feeling about the projects," said Wells, who lives near the Black Oak site in western Tompkins County and is also involved in green-roofing projects. "My whole background is in sustainability-related efforts, so I was thinking that if this wind farm is going to go in my town, I've got to be involved."
Proposed Tax Incentive
The U.S. Senate is considering The Community Wind Act, which was introduced in October and offers an investment tax credit to developers of wind farms as large as 20 megawatts that go into service before 2016. The subsidy, worth as much as 30 percent of construction costs, is currently available to projects with as much as 100 kilowatts of capacity.
Smaller wind projects have higher per-unit costs because they don't benefit from the scale of installing turbines totaling hundreds of megawatts of capacity. The investment tax credit is "more appropriate" for community projects, said Susman, who is also an AWEA board member.
"This ITC will help to drive down the price at which community wind projects provide power to local customers, such as municipal and cooperative utilities, universities and businesses," he said.
Wind produced 3 percent of the electricity in the U.S. last year, up from 1 percent in 2007, according to AWEA.
Tax Credit Ending
Wind companies are planning fewer large projects next year because another incentive is due to expire at the end of the year, according to turbine makers. The Production Tax Credit offers 2.2 cents for every kilowatt-hour of electricity generated by wind farms.
Vestas Wind Systems A/S, the world's largest turbine company, cut 2,335 jobs worldwide in January and said it may eliminate another 1,600 in the U.S. this year if the PTC isn't extended. The Bloomberg Wind Energy Index of 64 companies has declined 29 percent this year through yesterday.
Black Oak is seeking financing using an intrastate offering, a model that South Dakota Wind Partners LLC used for a 10.5-megawatt community project that began producing electricity in February 2011, Wells said. Investors must live in the same state as the project, and may provide either debt or equity financing.
Raising Capital
"For regional projects, we feel it's a great way to raise capital," said Brian Minish, co-founder of Val-Add Service Corp., which advised the South Dakota Wind Partners project and has worked on regional financing for other projects such as ethanol plants.
The offering for the South Dakota wind project was about one-third equity and two-thirds debt, Minish said. Equity buyers qualified for a tax benefit and one of the debt components offered a yield of about 7 percent, he said. "We raised the money in about six weeks," he said. "There are a lot of opportunities for smaller-scale wind farm operations."
Before it's here, it's on the Bloomberg Terminal.
LEARN MORE