Barclays Libor Decline Conflicts With Swaps: Corporate Finance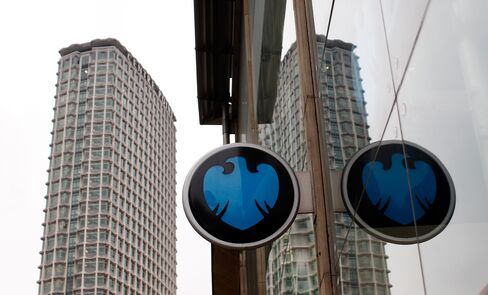 Barclays Plc, Britain's second-biggest bank by assets, says the interest rate it pays for short-term dollar loans is the lowest ever relative to rivals even as other measures of its credit deteriorate.
Barclays says it can borrow for three months at 0.3 percent in its submission for the London interbank offered rate, compared with the 0.466 percent composite level of the British Bankers' Association's measure. The 17 basis-point gap is a record after Barclays reported the biggest decline this year in the rate of the 18 banks contributing to the benchmark for $360 trillion of global securities.
While Barclays says its credit is getting better, the cost of insuring the U.K. lender's debt has risen 16 percent since Feb. 24, when its Libor contributions started diverging from the combined rate. Prices of credit-default swaps tied to London-based Barclays are worsening as the 10 biggest prime U.S. money-market mutual funds cut their holdings in its short-term debt by $6.65 billion in April, the biggest drop in dollars of any bank.
"There's a subjective element to Libor," which "represents the rates at which banks would expect to be able to raise funding at," said Harpreet Parhar, a credit strategist at Credit Agricole SA in London.
Credit-default swaps tied to Barclays' senior debt rose 29 basis points to 202 basis points since Feb. 24, the highest level since April 10, according to data compiled by Bloomberg. Contracts protecting its junior bonds climbed 79 to 422.
Jon Laycock, a spokesman for Barclays, declined to comment. The bank has 9.7 billion pounds of bonds and loans maturing this year, rising to 23.9 billion pounds in 2015, Bloomberg data show.
Daily Survey
Libor is calculated from a daily survey carried out for the BBA in London, in which the world's biggest banks are asked the rate they're charged to borrow over a variety of short-term maturities in currencies including dollars, euros and yen.
Barclays's submission for how much it can pay for three-month dollar loans is the second-lowest after HSBC Holdings Plc, which quotes 0.26 percent for the most commonly used Libor rate. Barclays's rate is now the lowest since Aug. 4 and is approaching a record-low 0.24 percent reached in November 2009.
The veracity of Libor as a measure of banks' funding costs is in doubt as regulators around the world investigate whether lenders have colluded to manipulate the benchmark. Last week the U.S. Commodity Futures Trading Commission became the latest official body to call for vigilance.
Brian Mairs, a spokesman for the BBA, declined to comment on specific banks' submissions, saying the association remains "committed to retaining the reputation and integrity" of Libor.
'Pretty Comfortable'
In spite of the controversy, Barclays's rate shows the bank is "in a pretty comfortable position with regard to funding," said Paul Smillie, a credit analyst in London at Threadneedle Asset Management, which oversees about $43 billion of fixed-income assets. "The U.K. banks have been repairing their balance sheets since 2008, so the funding metrics at Barclays stack up very favorably versus banks on the continent," he said.
The yield on Barclays bonds contained in Bank of America Merrill Lynch's EMU Financial Corporate index over benchmarks widened two basis points, or 0.02 percentage point, to 400 basis points this month. The spread was at 410 on Feb. 24.
Barclays Bonds
The U.K. lender's 11 securities in the index, which comprises 906 bonds from issuers including ABN Amro Bank NV, BNP Paribas SA and Royal Bank of Scotland Group Plc, returned 0.26 percent in May. The index handed investors a gain of 0.3 percent in the same period.
The best performer in the Merrill Lynch gauge this month was Spain's CaixaBank, whose securities posted an average return of 1.04 percent. The worst performer was Axa SA, Europe's biggest insurer, with a 1.15 percent loss on its bonds.
Barclays's adjusted pretax profit rose 22 percent in the first quarter from a year earlier to 2.45 billion pounds ($3.9 billion) as investment-banking revenue rose, the lender reported April 26. Impairments for bad loans fell to 778 million pounds.
Those results may not be sustainable as the U.K. economy sputters and the euro-region crisis worsens, according to Simon Adamson, an analyst at CreditSights Inc. in London.
"Barclays has a sizeable business in Spain," Adamson said. "Sovereign exposure there isn't really a concern but it has private-sector exposure so given the way things are there, impairments are going to stay high."
EU Revenue
Barclays doesn't break out its results country by country. It got 15 percent of 2010 revenue in the European Union outside of the U.K., data compiled by Bloomberg show. Britain entered its first double-dip recession since the 1970s in the first quarter.
Barclays is also under pressure as U.S. money funds reduced holdings in the lender to $23.9 billion as of April 30, from $30.6 billion a month earlier, according to data compiled by Bloomberg. The U.K. bank is the most reliant on money-market funding of any lender worldwide, according to a Bloomberg survey.
Moody's Investors Service announced in February a review of the short- and long-term ratings of banks with global capital markets businesses including Barclays, revising its timetable for the project on April 13. The global financial crisis has prompted rating firms to assess banks differently based on factors including how much lenders can rely on government support.
Ratings Warning
Barclays is rated A1 by Moody's, the fifth-highest long-term investment-grade rating, with a "negative watch." The bank is rated a level lower at A by Standard & Poor's and Fitch Ratings, both with a "stable" outlook. Moody's gives the lender a top P-1 short-term rating, while S&P and Fitch have this measure a level lower at A-1 and F1.
"Ratings matter at certain points, such as when they fall from the top short-term level or when a long-term rating crosses into junk," said Roger Doig, an analyst at Schroders Plc in London, which manages about $58 billion in fixed-income assets. "Ratings also matter because they're often hardwired into the investment management rules of money-market funds."
An effective measure of bank strength is the ratio of core Tier 1 capital, used as a cushion against losses, to total assets, according to Adamson of CreditSights.
Barclays had a ratio of 2.6 percent in 2011, down from 2.7 percent a year earlier, CreditSights data show. That compares with 4.8 percent for Britain's HSBC and 1.7 percent for Deutsche Bank AG and 4.3 percent for Banco Santander SA, the biggest lenders in Germany and Spain, respectively.
Beating Index
While Barclays credit-default swaps have risen, indicating a deterioration in investor perceptions of the bank's creditworthiness, the contracts have outperformed a broader financial index since Feb. 24. The 17 percent rise in the cost of five-year insurance for Barclays senior debt compares with a 24 percent jump in the Markit iTraxx Financial Index linked to the senior bonds of 25 European banks and insurers.
Credit-default swaps pay the buyer face value in exchange for the underlying securities or the cash equivalent should a borrower fail to adhere to its debt agreements. A basis point on a swap protecting 10 million euros ($13 million) of debt from default for five years is equivalent to 1,000 euros a year.
Barclays's share price fell 23 percent since Feb. 24, to a four-month low of 191.4 pence as of 12:30 p.m. in London. The FTSE 100 index of leading U.K. shares, in which banks have a
12.2 percent weighting, dropped 8 percent in the same period.
Before it's here, it's on the Bloomberg Terminal.
LEARN MORE