Companies Cut Two Switzerlands of Emissions in WWF Pact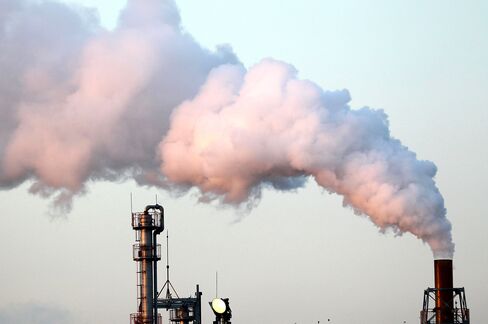 By Avery Fellow
The Coca-Cola Co., Nike, and more than 30 other companies have cut carbon dioxide emissions by more than 100 million metric tons since 1999 under a partnership agreement with the World Wildlife Fund, according to a new report. That's twice as much as the current annual emissions of Switzerland.
The companies are part of the World Wildlife Fund's Climate Savers program, in which companies partner with WWF and set targets to reduce their greenhouse gas emissions. The targets must be more ambitious than previous goals set by the company and should place companies ahead of their competitors in reducing emissions. WWF provides guidance to partner companies on ways to reduce their carbon footprint and address climate change.
Other members include HP, IBM, Johnson & Johnson, Lafarge, National Geographic, Natura, Nokia Siemens Networks, Novo Nordisk, Sprint, Tetra Pak, Sony, Supervalu, and Volvo.
The companies cut 27 million metric tons of emissions in 2011 alone, according to the report, "Carbon Impact of WWF's Climate Savers Program." And 27 million metric tons of the 100 million metric tons reduced between 1999 to 2011 were cut from Scope 3 emissions, or supply chain emissions.
The independent review was conducted by the international energy consulting firm Ecofys. It was released May 9.
"Resource efficiency and the goal of a low-carbon economy have to become part of the corporate DNA, particularly given high fuel and commodity prices," Alexander Quarles van Ufford, senior partnerships manager at WWF International, said in a statement. But he said corporate action is not enough to reduce emissions; government must set stricter policies to produce deeper emission reductions.
The companies could reduce a total of 350 million metric tons of carbon dioxide by 2020 if they continue to keep their commitments, according to the report.
If all industry peers in the 16 business sectors covered by the coalition participated, they could cut between 500 million and 1,000 million metric tons of carbon dioxide in 2020, according to the report. The reductions could reduce the "emissions gap," or the difference between rising emissions and what is needed to limit global warming to 2 degrees Celsius (3.6 degrees Fahrenheit), by up to 9 percent, the report said.
Avery Fellow covers sustainability for Bloomberg BNA and the World Climate Change Report blog.
Visit www.bloomberg.com/sustainability for the latest from Bloomberg News about energy, natural resources and global business.
Before it's here, it's on the Bloomberg Terminal.
LEARN MORE