Trade Gap in U.S. Probably Widened in March as Imports Rebounded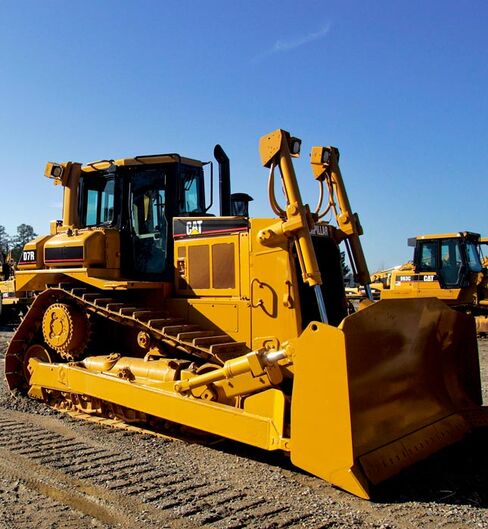 The trade deficit in the U.S. probably widened in March as imports rebounded from the biggest setback in three years, economists said before a report today.
The gap grew to $50 billion from $46 billion in February, according to the median forecast of 75 economists in a Bloomberg News survey. Another report may show first-time claims for unemployment benefits last week held close to a one-month low.
The pickup in the value of imports probably reflected higher fuel prices and a bounce back in shipments from China following the week-long Lunar New Year celebrations. At the same time, exports may cool as slower global growth and the European debt crisis limit sales at companies like Caterpillar Inc. and United Technologies Corp.
"We're having headwinds on the global environment, especially from Europe, but seeing support from emerging economies," said Sean Incremona, a senior economist at 4Cast Inc. in New York. The March widening "looks to be a correction from the very large decline" the prior month, he said.
The Commerce Department's trade figures are scheduled for release at 8:30 a.m. in Washington. Estimates in the Bloomberg survey ranged from gaps of $45 billion to $54 billion.
Purchases of foreign goods decreased by 2.7 percent in February, the biggest drop since February 2009, according to Commerce Department data last month. Imports from China plunged 18 percent as the Lunar New Year holidays extended into early February. That slump was probably reversed in March, widening the trade gap.
Crude Oil Prices
More-expensive petroleum may also have contributed to the gains. The price of foreign crude oil climbed 3.5 percent in March, according to figures from the Labor Department. Fuel prices probably retreated last month, helping to restrain inflation from overseas.
The import price index dropped 0.2 percent in April after rising 1.3 percent the prior month, according to the median forecasts of economists surveyed by Bloomberg ahead of Labor Department figures that are also scheduled for 8:30 a.m.
Jobless claims climbed to 368,000 last week from 365,000 a week earlier, economists project another Labor Department report at the same time will show.
A hiring slowdown would raise the risk of weaker consumer spending, which means imports could keep slowing this quarter. Payrolls climbed by 115,000 workers in April, the smallest increase in six months, Labor Department reported last week. The jobless rate fell to a three-year low of 8.1 percent as people left the labor force, adding to worries that the economic expansion is cooling.
After reaching a record in February, U.S. exports may also slow as economies from Europe, to China and Brazil decelerate.
Europe's Economy
The European debt crisis is curbing demand for goods as governments step up spending cuts. Euro-region unemployment rose to a 15-year high in March and manufacturing contracted in April for the ninth month.
Concerns about Europe have pushed stocks lower this month. The Standard & Poor's 500 Index has dropped 3.1 percent so far in May.
Caterpillar, the world's largest maker of construction equipment, on April 25 reported a gain in first-quarter revenue that was smaller than analysts estimated after sales fell in China and Brazil. The Peoria, Illinois-based company said demand in developing nations this year will be lower than anticipated, a reversal after 2011 growth in Latin America and the Asia-Pacific region outpaced North America.
                        Bloomberg Survey

================================================================
                           Initial    Cont.    Trade   Import
                            Claims   Claims  Balance   Prices
                            ,000's   ,000's   $ Blns     MOM%
================================================================

Date of Release              05/10    05/10    05/10    05/10
Observation Period           5-May   28-Apr    March    April
----------------------------------------------------------------
Median                         368     3275    -50.0    -0.2%
Average                        367     3271    -49.8    -0.2%
High Forecast                  380     3315    -45.0     1.3%
Low Forecast                   345     3185    -54.0    -1.1%
Number of Participants          47       14       75       50
Previous                       365     3276    -46.0     1.3%
----------------------------------------------------------------
4CAST Ltd.                     366     ---     -50.3    -0.2%
ABN Amro Inc.                  360     ---     -50.0     ---
Action Economics               365     3300    -49.5    -0.2%
Aletti Gestielle              ---      ---     -48.5     ---
Ameriprise Financial Inc       361     3280    -50.0     0.0%
Banca Aletti & C spa           370     ---      ---      ---
Bantleon Bank AG              ---      ---      ---     -0.4%
Barclays Capital               370     ---     -49.0     0.0%
Bayerische Landesbank         ---      ---     -52.0     ---
BBVA                           370     3295    -48.0    -0.1%
BMO Capital Markets            370     ---     -48.0    -0.5%
BNP Paribas                    380     ---     -49.8     ---
BofA Merrill Lynch Resear      370     ---     -51.0    -0.2%
Briefing.com                   365     3300    -49.5     ---
Capital Economics             ---      ---     -52.0     ---
CIBC World Markets            ---      ---     -49.0     ---
Citi                           375     3270    -49.5    -0.8%
ClearView Economics           ---      ---     -47.0     0.7%
Commerzbank AG                 360     ---     -52.0     ---
Credit Agricole CIB           ---      ---     -50.8     ---
Credit Suisse                  370     ---     -48.5    -0.2%
Daiwa Securities America      ---      ---     -51.0     ---
DekaBank                      ---      ---     -50.0     ---
Desjardins Group               360     ---     -51.0     0.0%
Deutsche Bank Securities       365     ---     -49.0    -1.0%
Deutsche Postbank AG          ---      ---     -49.0     0.0%
DZ Bank                       ---      ---     -48.5     0.1%
Exane                         ---      ---     -49.5     ---
First Trust Advisors           371     ---     -50.5    -0.1%
FTN Financial                 ---      ---     -48.0     ---
Goldman, Sachs & Co.          ---      ---     -50.0     ---
Helaba                         370     ---     -51.0     ---
High Frequency Economics       365     ---     -49.0    -0.5%
HSBC Markets                   372     3240    -50.0    -0.3%
Hugh Johnson Advisors          370     ---     -48.0     0.4%
IDEAglobal                     370     ---     -48.0    -0.5%
IHS Global Insight            ---      ---     -51.1     0.1%
Informa Global Markets         375     3265    -48.7    -0.4%
ING Financial Markets          360     3250    -48.5    -0.1%
Insight Economics              360     3250    -50.5    -0.2%
Intesa Sanpaulo               ---      ---     -50.0    -0.2%
J.P. Morgan Chase              365     ---     -50.5    -0.2%
Janney Montgomery Scott L     ---      ---     -49.1    -1.1%
Jefferies & Co.                368     ---     -48.5     0.0%
Landesbank Berlin              375     ---     -50.8     0.0%
Landesbank BW                 ---      ---     -49.0     ---
Maria Fiorini Ramirez Inc      370     ---      ---      ---
Market Securities             ---      ---     -47.9     ---
Mizuho Securities              360     ---     -48.0    -0.5%
Moody's Analytics              365     3275    -50.6     0.0%
Morgan Stanley & Co.           365     ---     -50.0     ---
National Bank Financial       ---      ---     -48.0     ---
Natixis                       ---      ---     -50.0     ---
Nomura Securities Intl.       ---      ---     -51.9    -0.2%
Nord/LB                        370     ---     -48.5    -0.2%
O'Sullivan                     365     ---     -50.5    -0.3%
Parthenon Group               ---      ---     -47.7     1.3%
Pierpont Securities LLC        368     ---     -51.4     ---
PineBridge Investments         365     ---     -45.0     0.0%
PNC Bank                      ---      ---     -50.0    -0.2%
Raiffeisenbank Internatio     ---      ---     -50.5     0.2%
Raymond James                 ---      ---     -52.1     ---
RBC Capital Markets            380     ---     -50.5    -0.6%
RBS Securities Inc.            365     ---     -50.0     ---
Scotia Capital                 380     3315    -52.0     ---
SMBC Nikko Securities         ---      ---     -54.0    -0.5%
Societe Generale               345     3185    -51.3    -0.6%
Standard Chartered             360     ---     -50.5    -0.3%
Stone & McCarthy Research      366     ---     -51.5     0.2%
TD Securities                  370     3300    -48.5    -0.4%
UBS                            362     ---     -49.0     0.0%
UniCredit Research            ---      ---     -50.0     ---
Union Investment              ---      ---     -48.0     ---
University of Maryland         375     ---     -50.0    -0.1%
Wells Fargo & Co.             ---      ---     -52.0     0.2%
WestLB AG                     ---      ---     -50.0    -0.3%
Westpac Banking Co.            375     ---     -49.0     0.0%
Wrightson ICAP                 365     3275    -50.0    -0.2%
================================================================