A Fix for Forlorn U.K. Hunters: Paintball Fox Hunt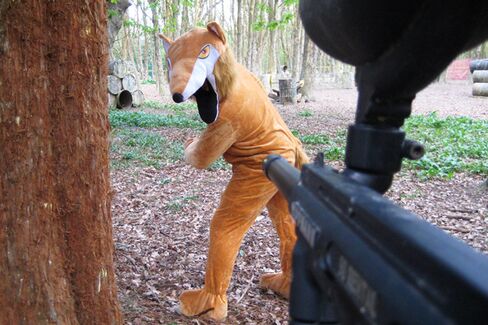 After speaking to a friend who was a frustrated ex-hunter, Justin Toohig decided to take advantage of the resources available to him as founder of UKPaintball.co.uk to help relieve his mate's woes. He created a new outdoor paintball game, which launches in early July, that allows "hunters" to shoot at a human target dressed as a fox.
Huntsmen in England and Wales have been at a loss since the Hunting Act of 2004 banned fox hunting with dogs. "We think it keeps both the pro-hunt and anti-hunt parties happy," Toohig says of the new game in an e-mail interview. "The 'hunters' get to shoot an 'animal,' and those against the hunt can rest assured no foxes will be harmed. It's a win-win."
After establishing demand for the new activity, "it's a case of getting some fox costumers and some willing participants and we're ready to go," he says. UK Paintball, which has 50 venues across the U.K., plans to roll the game out gradually at numerous sites.
A fox hunt for 10 paintball players costs £399, or about $645. Participants use red paint bullets and will be asked to wear traditional hunting attire rather than overalls to maximize authenticity, though unlike traditional hunts, they chase the target on foot rather than horseback. "It would be too difficult to organize [horseback hunts], and I think the woodland areas might get ruined. Also, it's more exciting to hunt the animal down on foot—man vs. beast," Toohig says. Keeping horses out of the picture also reduces costs. At launch, each game will include only one fox "to keep things exciting and [give] everyone a chance at getting a 'kill shot.'"
As for the "fox": "They need to be quick, able to climb, duck, dodge, and dive, and most importantly they need to ensure they don't mind getting hit. A love of animals is just a bonus," says Toohig, "and a hatred of hunters helps, too."
Before it's here, it's on the Bloomberg Terminal.
LEARN MORE