How to Scrub Carbon From 40,000 Products at Once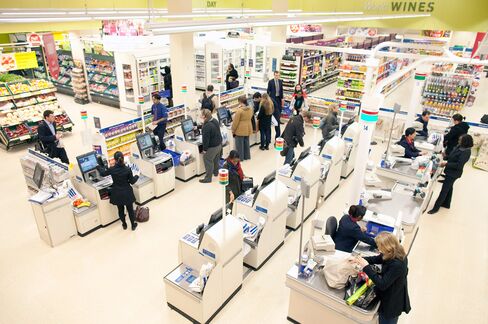 By Siobhan Wagner
Tesco Plc expects that by working more closely with its suppliers the U.K.'s largest supermarket owner will by 2020 cut 30 percent of the carbon dioxide emissions associated with products it sells.
With operations in 14 countries, Tesco is encouraging the makers of an estimated 40,000 products sold in its stores to share ideas on pollution reduction measures via a private web portal managed by 2degrees, a sustainable business network based in Oxford, U.K. About 500 Tesco suppliers have joined the group so far.
The network is "changing the way" Tesco works with suppliers, says Martin Chilcott, chief executive of 2degrees, by broadening discussions beyond what's required of typical business transactions. The network provides a shared space to discuss sustainability initiatives, which can cut costs across the supply chain.
Tesco also plans to halve emissions from its own stores by 2020, from a baseline set at its 2006-2007 CO2 levels. The retailer estimates energy-efficiency measures implemented since 2006 have saved the group 200 million pounds ($323 million) a year, according to Helen Fleming, climate change director at Tesco. Chilcott and Fleming spoke with Siobhan Wagner of Bloomberg New Energy Finance.
Q: Tesco's "Knowledge Hub," the online portal managed by 2degrees, will help reduce CO2 from products. What's the incentive for suppliers to get involved?
Helen Fleming: I think the incentives are really very clear in many ways. Energy efficiency is always going to be a big part of reducing emissions, and anything you do on energy efficiency is going to go straight to your bottom line in terms of decreased energy costs. Our suppliers increasingly see the medium-, long-term risks in terms of decreased resources. We've had a lot of price volatility for some basic commodities in recent years. People are beginning to more actively manage their supply chains and have longer-term strategies.
Q: How have suppliers responded?
Martin Chilcott: One of the reasons why the Tesco Knowledge Hub is on 2degrees -- and the managed service is delivered by 2degrees people -- is [Tesco] wants to create some neutrality about the community. While it is the Tesco "Knowledge Hub," it wants suppliers to feel they own it as much as Tesco. John Scouler, a U.K. commercial director, and the co-sponsor of our work along with Helen, said he thought this was changing the way Tesco related, at least in part, with its suppliers. It was learning how to collaborate and work with its suppliers in a different way. Whereas in the past, it had simply been transactional. When you're a retailer like Tesco, that transactional component is always going to be there, but that's also now alongside something which is genuinely collaborative.
Q: Who's signed up?
MC: We have one supplier, APS Salads, which has a very clever anaerobic digestion plant. It takes the tomato leaves, which was a cost in the past, and it crunches them up and puts them into this anaerobic digester and it produces a whole series of things of value. It produces natural gas, which it then uses to power its fleet of lorries. It produces electricity, which is used in the plant. It produces heat and CO2, which goes into the greenhouse to help grow the tomatoes. You've got a whole range of other producers with similar problems like vegetable waste to deal with, and we share through online discussions and case studies what APS Salads is doing. And then we arrange for a visit to the site and a dozen or so companies go along to the visit. We know of at least one case where, as a result of the visit, the person who went brought their CFO and CEO along and they're now building a business case for installing their own anaerobic digestion plant.
Q: What's Tesco's clean energy policy?
HF: [For us] it's really worthwhile investing in new technologies, including quite innovative ones, so we can test them in the real world. We've done things like build zero-carbon stores that allow you to test in the real world, in a real operating store, how well a technology actually delivers. What that then means is you learn; and if a technology works and delivers all the benefits, including the business benefits you thought it was going to, great. You can then mainstream that into the standard specification for your stores. If you look at something like our zero-carbon stores: we've introduced new lighting control technology; we've designed in things like sun pipes [which are mini-skylights]; we've put doors on fridges; we've put in energy boards that give you live information on your energy use. We've then gone into different types of refrigeration, what's called natural refrigeration, so it doesn't use HFC [hydrofluorocarbon] chemicals, which are extremely climate-damaging. In Ramsey, in Cambridgeshire [U.K.], we're using a combined heat and power plant that is fueled by waste oils that are processed from vegetable or fish oils. We opened a zero-carbon store in Thailand late last year; its energy comes from solar.
Q: Why did Tesco drop the U.K. Carbon Trust's CO2 footprint product labels?
MC: [Tesco] stopped using the Carbon Trust process because it's an expensive process. It involves a kind of point-by-point analysis of each product. Tesco has in, an average store, 40,000 lines.
Q: Why does this matter?
HF: We're trying to think about how we can scale up to a much broader range and bigger number of products. We've been at the vanguard at providing information to our customers on the carbon content of products. We're really committed to giving customers great information. So labeling products and giving information on products is a really key part of that.
Wagner is an analyst at Bloomberg New Energy Finance.
Visit www.bloomberg.com/sustainability for the latest from Bloomberg News about energy, natural resources and global business.
-0- May/08/2012 17:24 GMT
Before it's here, it's on the Bloomberg Terminal.
LEARN MORE