MBAs Learning Leadership the Hard Way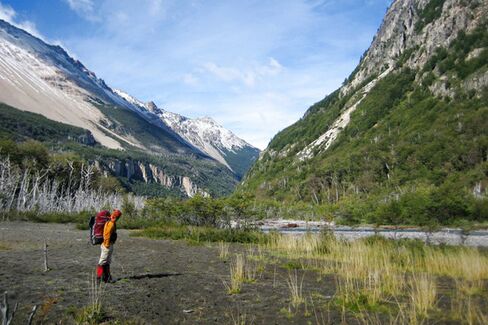 Daniel Balcauski was leading a team of Kellogg School of Management MBAs through Patagonia, a wild, isolated region on the southern tip of South America, when he realized a blizzard was quickly approaching. The five students and their guide had just reached the top of a picturesque Andes mountain pass and ahead was what Balcauski dubbed the "granite slab of death," a path that would be especially treacherous to go down as whiteout conditions and visibility worsened. Says Balcauski: "It was imperative to get off the mountain as soon as possible."
As the appointed Leader of the Day, he helped the team find an alternative route off the mountain, backtracking up a cliff and eventually finding a spot in a river valley where his team, some of whom were in the early stages of hypothermia, could set up camp. For Balcauski, then a first-year MBA student, the most valuable part of the experience happened that evening, when his classmates, wrapped in blankets and sipping hot drinks, gave him their opinion on how he performed as a leader in a set of challenging conditions.
"I got immediate and direct feedback on my leadership style and performance that day, which was extremely valuable," says Balcauski, now in the second year of his MBA program.
Outdoor education, once largely confined to orientation at business schools, is making inroads at a growing number of MBA programs as schools look for more effective ways to teach students the dynamics of leadership and team-building. Many of them are turning to the National Outdoor Leadership School (NOLS), in Lander, Wyo., which runs leadership expeditions that the group tailors to the MBA curriculum.
The nonprofit outdoor education school began organizing expeditions for such schools as University of Pennsylvania's Wharton School and Northwestern University's Kellogg School about five or six years ago, but since then a growing number of schools and students have reached out to NOLS to set up similar trips, the group says. The number of MBA programs NOLS has worked with has tripled since 2007, and the school is in talks with Harvard Business School, University of North-Carolina's Kenan-Flagler Business School, the Johnson School at Cornell University, and the Indian Institute of Management, about trips for the 2012-13 and the 2013-14 school year, NOLS says.
The outdoor courses, which take students on seven to 10-day expeditions in such locales as Chile's Patagonia region, Alaska, and the Rocky Mountains are all designed to teach students to be more confident leaders who can work better in teams and function more effectively under challenging circumstances, whether traversing a glacier or dealing with challenging weather conditions, says Rick Rochelle, NOLS's director of professional training.
"It is real-world decision-making in a very ambiguous environment where the variables change continuously, so it is a really dynamic learning experience for students," Rochelle says.
One of the schools that recently signed up with NOLS is the University of Wyoming's College of Business. The school is requiring its 12 full-time MBA students to participate in a seven-day leadership expedition this summer in Wyoming's Wind River Range, a rugged, glacier-carved range with granite walls, rocky, steep terrain, and perennial snow.
"We talk about leadership in class, but we really want them to spend some practicing leadership and thinking about the type of leader they will be," says Martin Saffer, director of Wyoming's MBA program.
At some schools, the NOLS expeditions are run and organized by student clubs. For example, at Kellogg, the trip to Patagonia was organized by the school's Business Leadership Club. Meghan Jewitt, a 2011 graduate of Harvard Business School who served as president of the school's Outdoors Club last year, organized a mountaineering trip to Patagonia and got 15 MBAs to go on the trip, she says.
One of NOLS's longest-standing relationships is with Wharton, which has been working with the school since 2003. Wharton's Leadership Ventures Program has become an important leadership laboratory for the school, serving about 600 students a year, 350 of whom go out on wilderness expeditions ranging from seven to 10 days, says Jeff Klein, director of Wharton's Graduate Leadership Program. Many of those trips are run by NOLS, whose instructors lead Wharton MBAs on mountaineering trips in Alaska, sea kayaking excursions in Mexico's Baja Peninsula, and hiking courses in Idaho's Teton Valley. NOLS instructors teach students basic wilderness and camping skills but ultimately leave the big leadership decisions about the trip up to the students. That's where students pick up the most valuable lessons, Klein says.
"They're in charge and they have all this responsibility in an environment in which they are not the experts," says Klein. "Where we find NOLS to be incredibly skilled is the ability to allow students to lead and then to accept the consequences of success or failure."
Join the discussion on the Bloomberg Businessweek Business School Forum, visit us on Facebook, and follow @BWbschools on Twitter.
Before it's here, it's on the Bloomberg Terminal.
LEARN MORE