James Hardie Misled Australia Investors on Asbestos Fund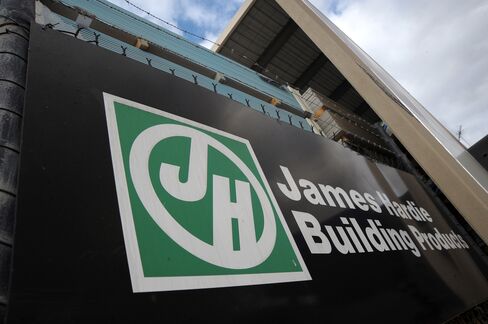 Seven directors at James Hardie Industries SE, a building products maker, breached their duties by approving misleading company statements about funding abestos-related claims, Australia's top court ruled.
The High Court decision today reverses a ruling that Australia's securities regulator failed to prove its case against James Hardie. The court is considering a separate case in which Fortescue Metals Group Ltd. and its Chairman Andrew Forrest are appealing a decision that they misled shareholders.
The High Court affirmed that directors are responsible for the accuracy of statements issued to investors and referred consideration of penalties and disqualifications of the James Hardie directors back to a lower court. The Australian Securities & Investments Commission, which won a ruling last year against Fortescue and Forrest, said today's decision was a timely reminder of directors' duties.
"It's truly a reminder to directors of what is expected of them," ASIC Chairman Greg Medcraft told reporters today.
Today's decision may have some cost implications for James Hardie, the Dublin, Ireland-based company said in an e-mailed statement. It won't be able to assess those costs until the appeal panel determines the penalties, it said.
The charges arose from a 2001 restructuring by James Hardie and the creation of two subsidiaries to assume the company's asbestos-related liabilities. The company established the units as part of plans to move its incorporation to the Netherlands from Australia.
'Fully Funded'
The company started the Medical Research and Compensation Foundation to pay claims of people who were injured by asbestos products it used to produce and said it was "fully funded" to meet future claims. By 2009, the fund was running out of money and James Hardie said it might be unable to meet its claims within two years.
The High Court, in a separate decision, found that Peter Shafron, the company secretary and general counsel at the time of the announcements, failed to discharge his duties by not advising the board that a study he had commissioned to predict asbestos-related liabilities was incomplete.
Directors have tried to claim they rely on management or experts to make decisions and the court is making it clear such excuses won't hold up anymore, said Michael Adams, the Dean of the School of Law at the University of Western Sydney.
"That's your job," the court has told directors, Adams said. "Do it properly."
Fortescue Appeal
Directors' ability to argue that they've fulfilled their duties if they exercise business judgment sincerely and honestly in issuing statements that are misleading is being tested with the Fortescue appeal to the High Court.
Today's ruling "has implications for Fortescue," said James Halliday, a partner at Baker & McKenzie in Sydney. "It's a clear signal."
Forrest has appealed a ruling that found he misled shareholders in describing contracts with three Chinese companies as binding when, according to ASIC, he knew they weren't completed.
Investors, analysts and shareholders who relied on the statements weren't aware the agreements weren't final and could only take the company at face value, ASIC's lawyer Neil Young said at a High Court hearing in March. A decision from the High Court is pending in the case.
Additional Emphasis
The James Hardie case places additional emphasis on the need for boards to carefully consider whether their company's statements are appropriately qualified, the Australian Institute of Company Directors said in a statement today.
Asbestos Disease Foundation of Australia President Barry Robson said today that James Hardie's compensation foundation was underfunded by more than A$1 billion ($1.03 billion).
"This is just a tremendously satisfying day for all of us who smelled a rat back in March 2001 when James Hardie originally announced its compensation fund," Robson said.
The cases are: Peter James Shafron v. Australian Securities and Investments Commission. 2012/HCA18. High Court of Australia (Canberra). Australian Securities and Investments Commission v. Meredith Hellicar. 2012/HCA17. High Court of Australia (Canberra).