Fracking Is Flopping Overseas
Geological differences make it less cost-efficient in Europe and Asia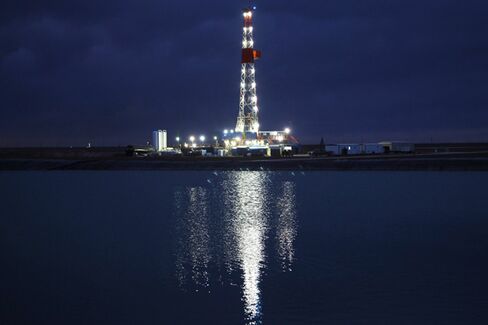 With all the buzz over fracking—and the 86 percent drop in U.S. natural gas prices the boom has helped cause—you'd think the rest of the world would crash the party. Yet shale development in China, home to the world's biggest unconventional gas resources, has been slower than predicted. Early enthusiasm faded in Poland after studies pegged drilling costs at three times higher than in the U.S. In 2011, Britain's Cuadrilla Resources stopped fracking after some minor quakes were linked to its drilling in northwest England. The practice has been banned elsewhere. "When you think about how quickly shale gas became successful in North America, there might be a bit of an expectation for it to happen just as quickly outside of the U.S.," says Robert Clarke of energy consultant Wood Mackenzie. "That just isn't reality, unfortunately."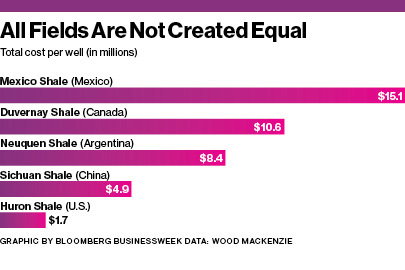 Fracking involves pumping a cocktail of water, chemicals, and sand under pressure to fracture rocks and release deposits of gas and oil. U.S. gas deposits within shale fields are among the world's cheapest to exploit, thanks to accommodating geology. European basins tend to be smaller and occur in shapes that are less cost-efficient to access, says Pawel Poprawa, formerly a geologist at the Polish Geological Institute. Projects in parts of the Northeast U.S. can turn a profit selling gas for $3 per million Btu. In Poland, the cost is likely closer to $9. That's bad news for ExxonMobil, Chevron, ConocoPhillips, and other companies that grabbed 109 licenses in Poland in recent years in hopes of a U.S.-style gas gold rush.
A similar story is emerging in China where Exxon agreed last year to explore shale fields with China Petrochemical, Asia's biggest refiner. Chinese shale deposits won't produce substantial amounts of gas for about 10 years and will cost at least three times as much to drill as U.S. fields, says Chris Faulkner, chief executive officer of Breitling Oil & Gas. China aims to produce 6.5 billion cubic meters of shale gas by 2015 and set a target of 60 billion to 100 billion cubic meters by 2020. The U.S. produced 96 billion in 2009. "China will not have a shale gas revolution on the scale seen in the United States, and it is highly unlikely that China will achieve its target" by 2020, Fan Gao, a research fellow at the Oxford Institute for Energy Studies, wrote in a report in March. Hurdles include a population density five times that of the U.S., water availability of about one-fifth, and an immature oil-service industry and pipeline infrastructure. As China's population becomes more aware of health and safety issues, environmental issues could also be a "showstopper," she said.
France banned fracking in July, citing environmental concerns, and in October canceled exploration permits held by Total and Schuepbach Energy. Bulgaria followed suit in January, stripping Chevron of a drilling license after protesters marched in the capital of Sofia.
The relatively slow development of shale abroad should benefit the U.S. Japanese utilities were paying $20.87 per million Btus for Yemeni gas in January—eight times U.S. gas prices at the time. The bigger the price gap, the greater the profit for shippers of gas from the U.S.
Before it's here, it's on the Bloomberg Terminal.
LEARN MORE