S. Korea Flights Being Jammed in Possible Attack From North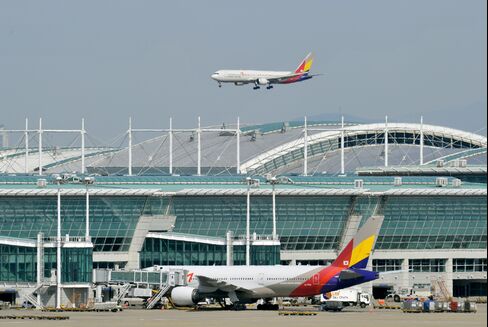 South Korea said it suspects Kim Jong Un's regime in the North of jamming global positioning systems of airliners operating out of Seoul, adding to signs of an escalation in hostility.
A total of 252 planes flying in and out of Incheon International and Gimpo airports since April 28 have had signals jammed as of 10:40 a.m. today, the Land Ministry said in a statement on its website. "The signals are believed to be coming from North Korea and we are keeping a close watch on this," said Lee Kyung Oh, an official at the Korea Communications Commission in Seoul.
Tensions have increased in the past month as North Korea defied international pressure and launched a rocket that disintegrated, prompting speculation it will soon detonate a nuclear device to reassert itself. Kim's regime on April 23 threatened to turn South Korean President Lee Myung Bak and his government "to ashes" using "unprecedented" means.
"The North Korean philosophy has been to attack in ways that makes it hard to tell that they were behind it," said Ahn Cheol Hyun, a former National Intelligence Service agent and head of Ahn's Institute of Crisis Management in Seoul. "Signal jamming and cyber attacks have been a low-cost, high-efficiency way to provoke because you can never 100 percent prove that they were responsible."
Affected airlines include Korean Air Lines Co., Cathay Pacific Airways Ltd., FedEx Corp., Japan Airlines Co. and Thai Airways International Pcl, Land Ministry official Yang Chang Saeng said by phone. All flights are operating normally as their primary guidance mechanisms use motion sensor systems or radio short waves, he said.
Multiple Frequencies
"If worst comes to worst and all navigation functions fail, control towers can track planes and communicate via multiple radio frequencies to make sure that they don't divert from travel paths," Yang said.
Pilots and airlines were first alerted on April 28 and the KCC is investigation the jamming, he said.
Korean Air flights have not been affected, the airline said in an e-mailed response to a query from Bloomberg News.
South Korea's military equipment hasn't been affected by the jamming of signals, a Defense Ministry official told reporters today in Seoul. The official declined to be identified, citing military policy.
Before it's here, it's on the Bloomberg Terminal.
LEARN MORE