Older Entrepreneurs Start Companies Too
Older workers start up more companies than you think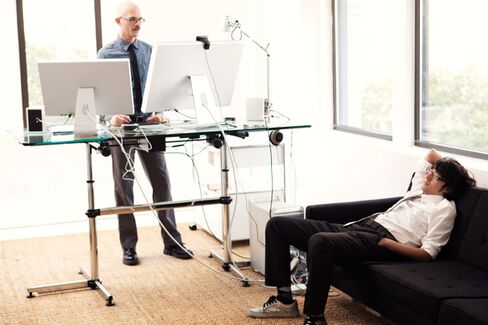 Entrepreneurs are the lifeblood of the economy. They're innovators, experimenters, and risk takers, the driving force behind capitalism's "perennial gale of creative destruction," in economist Joseph Schumpeter's evocative metaphor. In the American imagination, entrepreneurs are young and bold. Think Bill Gates of Microsoft and Michael Dell of Dell creating the personal computer revolution in the 1980s and Mark Zuckerberg of Facebook and Jack Dorsey of Twitter building social media enterprises in the 2000s.
There's the rub: America is aging. The leading edge of the baby boom generation is already eligible for Social Security and Medicare. Gloomy prognosticators fear the aging population will exert a dampening influence on the economy. The popular image of older folks is hardly as stalwarts of entrepreneurial ambition and energy. They have a reputation for being set in their ways, unwilling to challenge the established order, showing little interest in the latest technologies and organizational ideas, thinking more about retirement than launching a new venture.
Think again. Although new business formation by the 55 to 64-year-old age group declined in 2011, its share of entrepreneurs is up sharply over the past 15 years—from 14.3 percent in 1996 to 20.9 percent in 2011. Business creation was lowest among the youngest age group, 20 to 34, over the same period, according to economist Robert W. Fairlie in the Kauffman Index of Entrepreneurial Activity, 1996-2011. Other data sets come up with a similar story. For example, looking at 2003 Census data, those 65 and over had a total self-employment rate of 26.9 percent, calculates Edward G. Rogoff, economist at Baruch College, City University of New York. The comparable figure for those 25 to 34 years of age is 7.2 percent.
Numbers like these convince Dane Stangler, researcher at the Kauffman Foundation, that U.S. could be on the "cusp of an entrepreneurship boom—not in spite of an aging population but because of it." Adds Ting Zhang, economist at the Jacob France Institute in the Merrick School of Business at the University of Baltimore: "Older people with experience have an entrepreneurial edge in a knowledge-based economy."
Take the experience of an entrepreneur such as Mac Lewis. He's chief executive officer and co-founder of FieldSolutions. Working with a network of more than 27,000 independent contractors the Minnetonka (Minn.) company provides field service technicians to large technology companies throughout North America. Lewis started the company in 2006 at age 60. He had worked at IBM in various capacities for 14 years. When he left IBM he created, ran, and invested in a number of high-tech companies, spending the previous 10 years before he started FieldSolutions as founder and partner in a venture capital fund. He could easily have retired and managed his money, but "rather than invest in something, I wanted to get my hand in it," he says. "I decided I liked being in business better than being on boards."
Of course, people become entrepreneurs because they want to or because they have to. The first group tends to build more durable enterprises with human resource departments and capital budgets in a wide range of businesses. They'll attract angel investors and even venture capital. For example, among U.S.-born tech founders, those older than age 50 numbered more than twice as many as those younger than 25, according to a study by scholars Vivek Wadhwa, Richard Freeman, and Ben Rissing. Older entrepreneurs tend to have an edge in markets where experience and contacts are invaluable. "People with experience know how to support their customers and how to price their product," says Lewis.
Still, many of the startups founded by older entrepreneurs aren't the kind of job-generating gazelles that populate small business hotspots such as Silicon Valley, Boston's Route 128, and the Austin tech hub. No, the new companies are better known as "Schedule Cs," businesses established by an aging accountant, a laid-off middle manager turned consultant, or an outsourced specialist. They're sole proprietors with a handful of employees at most. The ranks of these establishments swelled along with the high unemployment rates of the Great Recession, according to studies by Robert W. Fairlie, economist at the University of California in Santa Cruz. "A basic dividing line is age 50," says Rogoff. "You lose a good job at age 50, the chances of getting another is small, so you do something else—you start your own business."
Nevertheless, whether out of necessity or desire, older entrepreneurs have a number of competitive advantages. They're knowledgeable in their field. They have deep informal networks. Information technologies make it easier to work out of the home. "Some older workers have been cherishing a dream, wanting to start their own business, and the time is now," says Zhang. Adds Stangler: "Many different strands and trends are feeding into entrepreneurship with older people."
The dark side of aging baby boomers is dominating America economic and political discussion. Yet beneath the surface is growing evidence that the ranks of elderly entrepreneurs will swell. The trend will not only make the Social Security and Medicare bills easier to pay. It will boost the economy's underlying entrepreneurial dynamism. That's good news for all generations, young and old alike.
Before it's here, it's on the Bloomberg Terminal.
LEARN MORE