Oerlikon Climbs as Annual Profit May Beat Guidance: Zurich Mover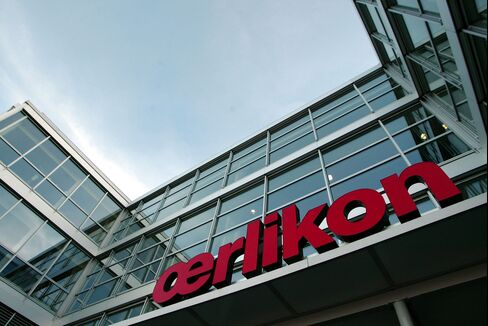 OC Oerlikon Corp AG, a Swiss maker of textile machinery, rose to the highest price in almost two years after saying profit may exceed its earlier guidance as a slumping textile market stabilizes.
"The bottom line and the top line can improve on our guidance," Chief Executive Officer Michael Buscher said in a telephone interview. "We are confident we can increase profitability further compared to 2011." Buscher didn't say by how much profit may rise. The Pfaeffikon-based company's shares gained as much as 4.2 percent in Zurich, the biggest intraday jump since March 26 and the highest price since May 2010.
First-quarter earnings before interest and taxes, on a like-for-like basis excluding a one-time property sale by the textiles unit, rose 7 percent from a year earlier to 113 million Swiss francs ($125 million), Oerlikon said today. Sales climbed 6 percent to 961 million francs. The Ebit margin, or Ebit as a percentage of sales, on a like-for-like basis was 11.8 percent.
When it reported full-year earnings on March 5, Oerlikon set a 2012 Ebit margin target of about 11 percent and forecast like-for-like sales and order intake would decline by as much as 5 percent.
The company's shares were 4.1 percent up at 8.88 francs as of 10:53 a.m. Competitor Rieter Holding AG traded 3 percent higher at 154.2 francs.
Order Intake
Order intake in the first quarter dropped 12 percent from a year earlier, led by a 19 percent decline at the textile unit. Buscher said the fall was caused by an "exceptionally high" first quarter last year. He said he's confident about orders for the unit, "based on the strong start to the year and in the context of our discussions with customers."
Buscher said demand from China, which generates 53 percent of Oerlikon's textile sales, is stable, with "smaller markets like Indonesia and Turkey helping to push growth."
Demand for machinery to spin natural fibers such as cotton has stabilized and should rise this year, after falling through most of 2011, Buscher said. The peak of the textiles industry was at the end of 2010 and beginning of 2011, as companies re-stocked after the financial crisis, Buscher said.
Demand for man-made-fiber machinery to spin nylon and polyester held up better last year and continues strongly, according to the CEO. "We can see good orders for man-made fibers through to 2014," he said.
Textile Division
Artificial fibers make up about 45 percent of revenue for the textile division, with 40 percent coming from natural materials, Buscher said. The remaining unit revenue comes from components for textile machinery. Oerlikon competes with Rieter Holding, China Textile Machinery Co. and Lakshmi Machine Works Ltd. in textiles.
Oerlikon agreed to sell its solar business to Tokyo Electron Ltd. of Japan for 250 million francs, the company said in March. The transaction is expected to close this summer, Oerlikon said in today's statement. Buscher said he is continuing to assess the return on net assets of "all parts of the portfolio". In addition to textiles, Oerlikon makes gears for tractors and high-performance sports cars, and coating for the engine components of Formula One cars.
Lower Interest
"Where we think we could increase return on net assets, we will take a decision there," Buscher said. Oerlikon will focus on selling or acquiring individual product lines or technologies to shape its asset mix, Buscher said, adding that the company is "currently not looking at a big unit sale".
"There will be better opportunity to shape the portfolio after increasing profitability within the business, and after renegotiating our debt facility this summer, which will lower interest costs, diversify our funding sources," he said.
Buscher wouldn't say where the portfolio could be shaped or if Oerlikon had already mandated banks for work on acquisitions or disposals.
Before it's here, it's on the Bloomberg Terminal.
LEARN MORE