Microgrids Sought as Declarations of Electrical Independence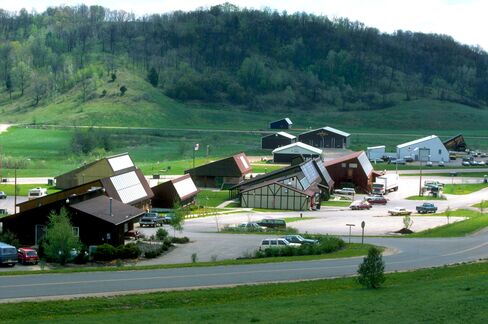 By Sophia Yan
Most of us who enjoy lighting at home couldn't explain in detail how that web of electrical complexity -- the power grid -- moves electrons from there to here. Maybe it's better to start with something smaller and more manageable. Maybe we should talk more about microgrids.
A microgrid is exactly what it sounds like -- a scaled-down electricity distribution system that can provide power to military bases, homes, municipalities, university campuses and office buildings. Microgrids can turn buildings into "islands" of self-sufficient power by linking together small generators such as diesel generators, fuel cells, microturbines, solar panels and others. This forms a network to provide power on the same spot it's produced.
There aren't a lot of microgrids yet, but they're coming, particularly as smaller scale energy generation -- think solar -- becomes more prevalent. The University of California at San Diego runs 13.5 megawatts of gas turbines, a 3-megawatt steam turbine and a 1.2-megawatt solar installation. Together, they can deliver about 80 percent of the power consumed annually. CH2M Hill has proposed the Niobrara Data Center Energy Park, near Loveland, Colorado, which would distribute generation from 200 megawatts of natural gas, solar and wind capacity.
The Pentagon is an early adopter, and possibly the most important one. Some of the largest Defense Department contractors are developing and testing systems for the military. Lockheed Martin, General Electric, Eaton, Boeing and Siemens are working on a handful of military bases in a $30 million project. Those projects have given North America an early lead in microgrids, with 69 percent of the world's capacity. This technology will help the Defense Department reach its goal of reducing energy intensity by nearly 40 percent by 2020.
To the larger electric grid, the microgrid looks like every other energy consumer that can turn electricity on or off. Because microgrids can ``island'' an area, they can pull whole areas off the main grid when electricity demand peaks and costs are high. At the same time, when demand is low from the main grid, microgrids can store power to sell back later. This lowers the end cost of electricity use for the consumer.
Consumer microgrids might eventually be welcome by homeowners, who would gladly forego pre-storm trips to the store for candles, matches, flashlights and canned beans.
Visit www.bloomberg.com/sustainability for the latest from Bloomberg News about energy, natural resources and global business.
-0- Apr/30/2012 19:02 GMT
Before it's here, it's on the Bloomberg Terminal.
LEARN MORE