RIM Turnaround Could Take Three to Five Years, Watsa Says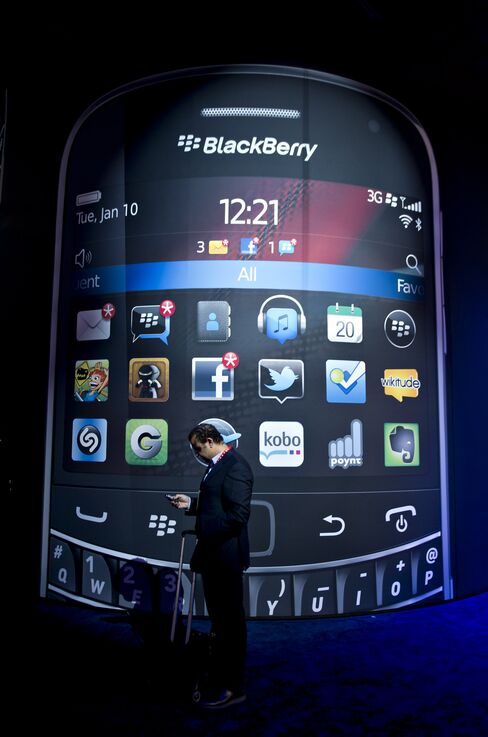 A turnaround at Research In Motion Ltd. may take three to five years and the BlackBerry maker's stock is undervalued, one of RIM's biggest investors said today.
Prem Watsa joined RIM's board in January and days later said his Fairfax Financial Holdings Ltd. had doubled its holding, making it RIM's third-largest investor, now with 5.1 percent. After Fairfax's annual meeting today, he said he's confident about RIM's future.
"Is it going to turn around in three months, six months, nine months? No," Watsa said. "But if you're looking four, five years -- we make investments over four, five years. ''Here's a company with $2.1 billion of cash and no debt."
RIM has fallen 90 percent in Nasdaq trading since June 2008 as BlackBerry phones and PlayBook tablets suffer declines in revenue and market share. RIM's sales in the U.S., its most important market, fell 57 percent last quarter as customers opted for Apple Inc.'s iPhone or devices built on Google Inc.'s Android software.
While Watsa said there is "always a possibility" that RIM might collapse as did Nortel Networks Corp., the Canadian phone-equipment maker that filed for bankruptcy in 2009, he said RIM is much better health.
"Different set of circumstances," he said.
Management Shakeup
Watsa, who predicted the downfall of U.S. banks tied to real estate ahead of the financial crisis, models his management style after that of billionaire investor Warren Buffett, preferring out-of-favor securities. Profit at Fairfax, which he founded in 1985, rose to a record $1.45 billion in 2008, after investment gains on credit-default swaps on U.S. banks and insurers.
Watsa's appointment to the board was announced on Jan. 22 as part of a management shakeup that included the replacement of co-Chief Executive Officers Jim Balsillie and Mike Lazaridis with the former operating chief, Thorsten Heins. The new CEO said last month he's considering strategic changes, including licensing the company's new operating system after five straight quarters of sales shortfalls for Waterloo, Ontario-based RIM.
RIM is near a decision to pick a financial adviser, and JPMorgan Chase & Co. is the leading candidate to help the company consider options, two people with knowledge of the matter told Bloomberg News last week.
Watsa declined to comment today on whether RIM has hired an adviser.
RIM rose 3.6 percent to $14.14 at 4 p.m. in New York.
RIM plans to introduce the first phone built on its BlackBerry 10 operating system in October, N4BB.com reported yesterday. A RIM spokeswoman, Tenille Kennedy, declined to comment.
Heins said last month that the company plans to release the first BB10 phone in the "latter part" of this year.
Before it's here, it's on the Bloomberg Terminal.
LEARN MORE