Japan Tobacco Full-Year Profit Forecast Misses Estimates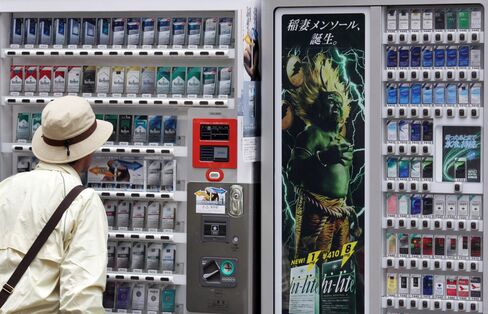 Japan Tobacco Inc., Asia's largest listed cigarette maker by market value, forecast this year's annual profit will fall 1 percent, missing analysts' estimates.
Net income will probably drop to 318 billion yen ($3.9 billion) for the year ending in March 2013, lower than the 341 billion yen average of eight analyst estimates compiled by Bloomberg. Sales are expected to rise 4 percent to 2.12 trillion yen, the company said.
Japan Tobacco is increasingly dependent on the overseas business as the company faces a shrinking domestic market. Its domestic market share fell to 55 percent in the year ended March 2012 from 64 percent a year ago because the earthquake triggered reduction of tobacco shipments. Japan Tobacco will be more dependent on overseas markets, President Hiroshi Kimura said on April 23.
The cigarette maker fell as much as 2.8 percent to 447,500 yen, the biggest intraday loss since April 19. The shares have advanced 24 percent this year, more than double the 11 percent gain for the Topix Index.
The company said it is considering buying back as much as 250 billion yen of its shares if the government sells its shares. This could change depending on the final amount the government plans to sell, said President Hiroshi Kimura, who will become chairman. He will be replaced by Executive Deputy President Mitsuomi Koizumi as president, Japan Tobacco said on April 23.
Share Sale
A law passed last year allowed the Japanese government, the biggest shareholder of Japan Tobacco, to sell one-third of its entire holding to help pay for earthquake rebuilding. The government currently owns a 50 percent stake, according to data compiled by Bloomberg. Japan Tobacco had a market capitalization of 4.6 trillion yen as of the close of trading yesterday, according to figures compiled by Bloomberg.
Japan is discussing a timetable for selling shares in the company, two finance ministry officials said this month. They spoke on condition of anonymity because of ministry policy.
A combination of a market sale and a buyback by Japan Tobacco is possible, said the officials. The government wants to avoid going to market at the same time as Japan Airlines Co., the officials said.
Japan Tobacco's net income rose 32 percent to 320.9 billion yen in the year ending March 31, 2012. The company targets 5.2 percent adjusted growth for earnings before interest taxes, depreciation and amortization, or EBITDA, this fiscal year ending March 31, 2013.
The board proposed to pay a total dividend of 10,000 yen per share.
Shareholder Proposal
Japan Tobacco also said the board opposed the proposals by Children's Investment Fund Management UK LLP for the Tokyo-based maker of Mild Seven cigarettes to pay a 20,000 yen per share dividend, to buy back shares worth 800 billion yen and to cancel treasury stock. The London hedge fund is founded by Christopher Cooper-Hohn and is known as TCI.