Delta Loss Wider Than Estimated as Fuel Blunts Fare Gains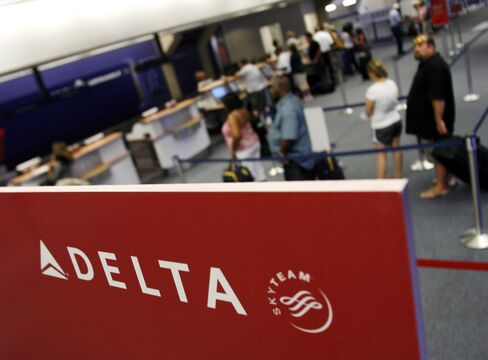 Delta Air Lines Inc. and US Airways Group Inc. predicted higher demand heading into the busy summer travel season after fare increases helped blunt rising first-quarter fuel bills.
Delta's passenger revenue for each seat flown a mile on its main jet operations jumped 15 percent for the three months ending in March, while US Airways posted a 7.1 percent gain on the same basis.
The first of the so-called legacy airlines to report quarterly earnings, both Delta and US Airways took advantage of steady demand by raising ticket prices in the seasonally weak period after the winter holidays. Shares of both carriers rose.
"The next two quarters are going to be gangbusters," Ray Neidl, a Maxim Group LLC analyst in New York, said in an interview. "Demand remains strong. Unless something happens to really drive up oil prices, you're going to see margins continue to move up because you'll see more fare increases."
Delta's revenue rose 8.6 percent to $8.41 billion for the quarter, topping the $8.36 billion average estimate from analysts. Its fuel bill was $2.23 billion, an increase of about 3 percent from a year earlier, surpassing labor as the biggest expense.
'Solid' Demand
Demand for travel "remains solid" and Delta expects April unit revenue will rise about 11 percent with May increasing by "high single digits," President Ed Bastian said today on a conference call with analysts and reporters. Delta's operating margin will be 8 percent to 10 percent for the quarter that ends in June, he said.
Delta's deficit excluding certain items for the first quarter was 5 cents a share, wider than the 4-cent loss estimate by analysts in a Bloomberg survey.
Including an adjustment for fuel hedge gains, a $39 million benefit related to an exchange of takeoff and landing slots with US Airways at New York's LaGuardia airport and a charge on fleet and facilities, Delta's net income was $124 million, or 15 cents a share, compared with a loss of $318 million, or 38 cents, a year earlier.
The Atlanta-based carrier trimmed capacity by 3.2 percent, which helped lower costs.
Delta was unchanged at $10.48 at the close in New York, while US Airways rose 3.1 percent to $9.60.
US Airways
US Airways, which is seeking a merger with AMR Corp.'s American Airlines, said its first-quarter loss narrowed to $22 million, as the carrier flew more passengers and collected higher fares.
The loss of 13 cents a share excluding certain items was smaller than the 23-cent average of 12 analyst estimates compiled by Bloomberg.
Sales rose 10 percent to $3.27 billion, the Tempe, Arizona-based company said, topping the $3.24 billion estimated by analysts.
US Airways expects a 9 percent increase in April unit revenue, with May up "a little less," President Scott Kirby said on a conference call.
"The strong demand environment is leading to a strong pricing environment," he said. "There have been several well-reported fare increases but, more significantly, the fare sale environment is less aggressive this year than last year."
Including a $73 million gain from the LaGuardia slot swap with Delta and a $3 million special operating charge, US Airways had net income of $48 million, or 28 cents a share, compared with a year-earlier loss of $114 million, or 71 cents.
US Airways, the smallest of the major U.S. full-service carriers, has reached agreements with each of American's major unions on contract terms, contingent on a successful takeover of the bankrupt airline.
Before it's here, it's on the Bloomberg Terminal.
LEARN MORE