A New Race Begins When London Marathoners Cross Finish Line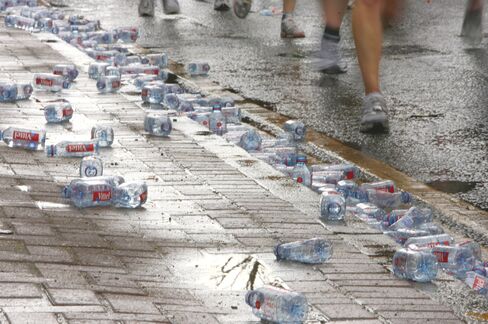 By Alex Morales
Wilson Kipsang of Kenya led a field of 36,000 runners on Sunday in the London Marathon. Competitors ranged from elite athletes to former "Dr. Who" actor Christopher Ecclestone, to ordinary punters like me and 101-year-old Fauja Singh, who I first met at the marathon when he was a mere 93.
Relatively cool temperatures meant runners needed to drink less water than our colleagues who ran the Boston Marathon in 30 degrees Celsius (87 degrees Fahrenheit) of heat on April 16, but I still grabbed a bottle every mile, and threw it away. I'd take a couple of swigs and toss them to the side of the road. And so did everybody else.
That's a lot of water bottles to clean up. Westminster Council sets a goal for its cleaning contractors, with an element of competition: Clean the streets within three hours of the marathon's completion. Veolia Environnement, hired to sweep up, were charged with beating the cleaning record of 1 hour and 20 minutes set in 2008, according to the local authority.
The city council hosts the iconic final two miles of the race, winding along the Thames River, doglegging before Big Ben, passing Buckingham Palace and finishing alongside St. James's Park.
Westminster's 1.7 tons of plastic bottles recovered in 2011 represents just a fraction of the overall waste from a course that spans the boroughs of Greenwich, Lewisham, Southwark, Tower Hamlets and the City of London, according to the marathon organizer's website. In 2011, total waste collected by the local authorities the length of the course amounted to 47 tons.
Westminster Council's 40-member cleaning team has 14 vehicles to complement its paid litter-pickers. Weary runners are encouraged to toss bottles into roadside bins, but frequently miss. I've had to duck the odd errant bottle in the 14 marathons I've run.
Runners this year set 29 speed records at the event, including unorthodox categories such as "the fastest marathon dressed as a vegetable (female)," 3 hours, 47 minutes and 15 seconds, set by Helen Juckes; to "fastest marathon on stilts," 6 hours, 50 minutes and two seconds, by brother and sister George and Charley Phillips. Kipsang himself finished four seconds behind the course record of 2 hours, 4 minutes and forty seconds, set last year by his compatriot Emmanuel Mutai.
The clean-up crew finished respectably, 1 hour and 42 minutes -- or 20 minutes behind the record. They picked up more than 2 tons of rubbish, according to a spokesman, who said there are no incentives offered for beating the record -- just pride.
The empty bottles begin another new marathon of their own. The recycled plastic can be turned into anything from eco-friendly clothing to upholstery for car seats, according to the council. Organizers pledge to make the race "as sustainable as possible." Maybe next year, my running vest will be made from last year's water bottles.
Alex Morales covers climate change and renewable energy for Bloomberg News.
Visit www.bloomberg.com/sustainability for the latest from Bloomberg News about energy, natural resources and global business.
-0- Apr/25/2012 15:26 GMT
Before it's here, it's on the Bloomberg Terminal.
LEARN MORE