UTC Profit Win Driven by Tax Benefit, Carrier Order Gain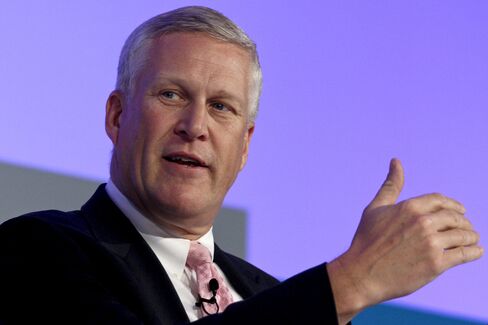 United Technologies Corp. profit topped analysts' estimates as sales of Carrier air conditioners climbed and the company received a $203 million tax benefit.
Earnings from continuing operations rose to $1.18 billion, or $1.31 a share, compared with the $1.20 average of 22 analysts surveyed by Bloomberg. One-time items, including the tax benefit, added 30 cents a share to profit.
Chief Executive Officer Louis Chenevert is remaking United Technologies by jettisoning units that make rocket engines, wind turbines and air compressors as well as reorganizing the climate controls and security unit before completing a $16.5 billion acquisition of Goodrich Corp. this year.
"They're off to a good start," Rick Whittington, an analyst at Drexel Hamilton LLC in New York, said in a telephone interview. "They're going to have a lot of repositioning and restructuring, leading to unexpected numbers. The underlying numbers were fine."
Climate, controls and security profit climbed 15 percent to $544 million as orders for Carrier's residential cooling systems in the U.S. soared in March, the company said in a statement.
"I'm quite encouraged by the improvement in their domestic business at Carrier," Whittington said.
United Technologies rose 0.1 percent to $79.85 at the close of trading in New York. The shares have advanced 9.3 percent this year, compared with a 9.1 percent gain for the Standard & Poor's 500 index.
Revenue Trails Estimates
Revenue fell 2 percent to $12.4 billion in the quarter, the Hartford, Connecticut-based company said. That trailed the average estimate of $12.8 billion from analysts.
The company increased its estimate for restructuring costs this year to $450 million and said one-time gains may reach $600 million. Reorganization reduced earnings per share by 9 cents in the quarter, according to the statement.
"We are not seeing top-line growth, and when you don't see top-line growth and you're trying to grow earnings, you've got to continue to take structural costs out," Greg Hayes, United Technologies' chief financial officer, said in a conference call with reporters. "There's just a lot of demand to take cost out."
After accounting for the discontinuation of Pratt & Whitney Rocketdyne, Clipper Windpower and Hamilton Sundstrand's pump-and compressor-making unit, net income fell 67 percent to $330 million, or 37 cents a share, from $1.01 billion, or $1.11.
Orders from China fell 15 percent across the company, including a 21 percent decline for Otis elevators, Hayes said. Operating earnings from the unit declined 10 percent to $566 million.
Profit at Pratt & Whitney slipped 1.4 percent even as sales climbed to $3.05 billion. The jet-engine manufacturer was United Technologies' largest unit by sales last year.
United Technologies affirmed a forecast made last month for 2012 profit of $5.30 to $5.50 a share and revenue of $61 billion to $62 billion.