BOE's Miles Says April Vote for More Stimulus Vindicated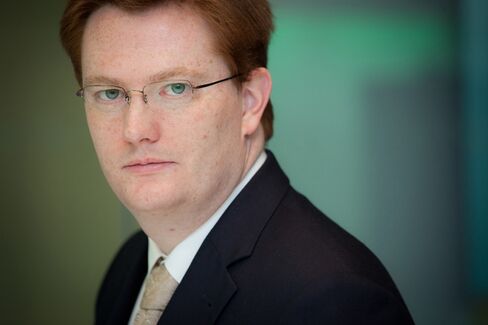 Bank of England policy maker David Miles said his vote for more so-called quantitative easing this month still looks vindicated as the economy is weak and data today might even show it contracted in the first quarter.
"The weakness of demand, given the amount of spare capacity in the economy, still made a strategy of having monetary policy even more expansionary the right one," Miles said in an interview in London yesterday. "On reflection that seems to me still the right strategy."
Miles was the sole official seeking more stimulus, after his colleague Adam Posen switched his vote and policy makers said inflation may turn out faster than forecast even though the U.K. economy might be in a recession. First-quarter gross domestic product data will be released at 9:30 a.m. in London.
"It seems pretty likely that right now, growth in the economy is pretty weak, probably marginally positive, but pretty weak," Miles said. "It wouldn't be a great surprise if the GDP number was a small negative number."
U.K. 10-year gilts rose to an intraday high after the comments yesterday, with the yield dropping three basis points to 2.10 percent.
Today's GDP data will show the economy narrowly avoided sliding back into recession with a growth rate of 0.1 percent in the first three months of this year after contracting 0.3 percent in the fourth quarter, according to the median estimate of 40 economists' forecasts in a Bloomberg survey. The Office for National Statistics will publish the figures in London.
A reading showing the economy did slip back into a slump "could have an effect on confidence," Miles said in a further interview with Bloomberg Television's Linda Yueh.
Vote Rationale
The weakness of the economy prompted Miles to seek to expand the current stimulus round to 75 billion pounds ($81 billion), more than the 50 billion pounds which is being completed, he said. Minutes of the decision showed that his vote was "finely balanced."
"I think trying to generate a stronger profile for demand in the near term is the right strategy to prevent some of the slack in the economy" at the moment "becoming redundant capacity," Miles said.
Officials will consider whether to pause the 325 billion-pound bond-purchase program with new forecasts next month after they showed concern on the strength of consumer-price increases at their April 5 decision. Data this month showed inflation accelerated for the first time in six months in March, with the rate rising to an annual 3.5 percent.
Inflation Outlook
"The inflation outlook in the very near term is for slightly higher inflation than I had thought," Miles said. "But if you look beyond that, the bigger picture remains one where the domestically generated inflation pressures in the U.K. really are very low. More likely than not, inflation will go back to the target level and quite likely sit beneath it if you look beyond the next six to nine months."
Bank of England Governor Mervyn King has previously said cooling inflation should lessen the squeeze on Britons this year and help the economy to recover from the second half. Consumers suffered the biggest drop in disposable income in more than three decades last year. Wage growth was 1.4 percent in the quarter through January. Miles said he expected that drain on Britons' finances to reverse.
"Even if wage settlements don't increase very much from where they are now, it is likely that inflation will drop back toward them and quite plausibly sit beneath them if you look into next year," he said. "We will get sometime in the relatively near future to a position where that big squeeze on people's disposable incomes is going to come to an end."
While underlying economic growth may exceed official estimates, Miles said that it remains weaker than the "sustainable" pace officials should seek.
"I think there is a case for more expansionary policy," Miles said. However, "it still remains a finely balanced judgment."
Before it's here, it's on the Bloomberg Terminal.
LEARN MORE