Ampal Tumbles After Egypt Terminates Gas Deal: Tel Aviv Mover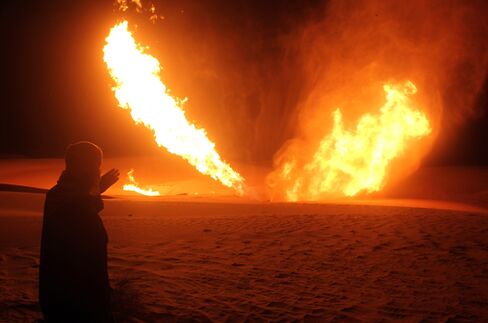 Ampal-American Israel Corp., which owns a stake in a company that exports natural gas from Egypt to Israel, closed at the lowest on record after Egypt terminated a gas supply agreement. The company's bonds dropped.
The shares of Ampal, which owns 12.5 percent of East Mediterranean Gas Co., declined 19 percent to 0.775 shekel, the lowest level since Bloomberg started tracking the data in August 2006, at the 4:30 p.m. close in Tel Aviv. The yield on the company's 6.95 percent local currency notes due September 2019 jumped 535 basis points, or 5.35 percentage points, to 50.33 percent, the highest since they were issued in 2010.
Ampal said it was advised by EMG that Egyptian General Petroleum Corp. and the Egyptian Natural Gas Holding Co. were terminating the gas-supply agreement. The deal valued at $2.5 billion was signed in 2005 and was supposed to run 15 years, according to the website of Israel's Foreign Ministry. Supply had been interrupted sporadically as the Sinai pipeline that carries the fuel was bombed about 14 times.
"This is not good news for Ampal," said Daniel Rapoport, equities and derivatives desk manager at Bank Leumi Le-Israel Ltd. in Tel Aviv. Given the bombings, Israel "has prepared for a scenario of a halting of gas. We are looking toward 2013 when Tamar will start its production," he said.
Ampal shares have tumbled 90 percent since the first explosion on the Israeli-Egyptian pipeline on Feb. 5, 2011. The benchmark TA-25 index today declined the most since April 15, sliding 1.2 percent.
Discovering Gas
Discoveries at Israel's Tamar and Dalit natural gas fields which are due to start production next year are estimated to hold enough gas to cover the country's needs for two decades. Finance Minister Yuval Steinitz said today the nation must hasten arrangements to bring gas from the Tamar off-shore site, and it may be possible to do so earlier than planned.
The Israeli partners in the Tamar field include gas and oil companies Delek Drilling-LP, Avner Oil Exploration LLP and Isramco Negev 2 LP. Delek Drilling lost 0.9 percent, Avner gained 0.2 percent and Isramco rose 0.4 percent.
"The cancellation of the agreement takes away any possibility of competition in the gas market at least for the coming four years," Tal Shirizly, an analyst at Psagot Investment House Ltd., wrote in an e-mailed note today. "The position of the partners in Tamar is expected to strengthen."
Tense Relations
Israel's relationship with Egypt has grown increasingly tense since street protests led to the ouster of former Egyptian President Hosni Mubarak in February 2011. Mubarak had been Israel's closest regional ally and was considered a staunch supporter of the 1978 Camp David peace accords that ended decades of hostilities between the countries.
Prime Minister Benjamin Netanyahu said the decision was a result of a commercial dispute between the companies and not due to political factors.
Egyptian Natural Gas Chairman Mohamed Shoeib said in an interview on state television the company hasn't been paid for the gas it is sending and, therefore, EMG is in breach of the deal. "It was our right to end the contract, per the terms of the contract," he said.
Before it's here, it's on the Bloomberg Terminal.
LEARN MORE