Obamacare Provides a Way for E-Business to Profit
New rules let states contract insurance sales to e-brokers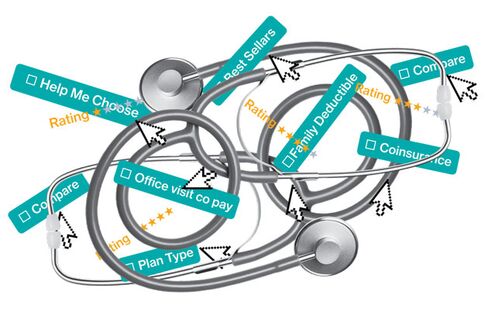 Come 2014—providing the Supreme Court upholds the health-reform law—millions of Americans will be able to shop for government-subsidized health insurance online, comparing policies the way they troll for airline tickets on Travelocity or Expedia. States are required to set up these so-called exchanges for an estimated 22 million employees of small businesses and uninsured Americans. For months the assumption has been that states would also run them.
Turns out there's now a way for business to get in on the action. Buried in a 644-page rule the administration recently issued is a provision allowing private insurance brokers to sell the coverage. "That's a game changer, big time," says Cindy Gillespie, head of health-care policy in Washington at law firm McKenna Long & Aldridge. Small businesses and the self-employed have turned to online brokers for health-plan options since the '90s. EHealth, the biggest, had 815,000 enrollees as of late 2011, according to regulatory filings. The provision is "going to put these private Internet portals, the regional brokers, the EHealths, on steroids," says Gillespie.
Under the rules, states will have to certify that individuals are eligible for subsidized plans but can contract out the work of enrolling them to brokers. In Republican-run states such as Wisconsin and Pennsylvania, where officials who oppose Obamacare have called for market-based alternatives, outsourcing could become the politically popular way of complying with the law. "The path of least resistance may be to rely on the private exchanges to do all of the front-end work," says attorney Christopher Condeluci, who represents brokers.
Brian Chiglinsky, a spokesman for the Centers for Medicare & Medicaid Services, said in an e-mail that the administration included the provision so states would have "flexibility" in designing their exchanges. The rules forbid the use of rebates or giveaways that might steer buyers to particular companies. Nonetheless, some advocates worry brokers could become too cozy with insurers and find ways to steer people toward more expensive coverage. "Unless you assure there's quality, authentic choice, and competition between insurance companies, private exchanges are really just menus created in the private interest as opposed to marketplaces created for the public interest," says Ethan Rome, executive director of Health Care for America Now, a labor-backed advocacy group that supported the health-care law.
Alan Cohen, co-founder of online broker Liazon, estimates companies like his could earn a monthly commission of $15 for every customer they sign up. With that monthly fee, the brokers' take could reach as much as $3.96 billion annually. Last year, Bain Capital Ventures led a group that put $12.6 million into five-year-old Liazon. If the law stands, more investors may jump in, Cohen says. "There's a lot of money waiting on the sidelines."
Before it's here, it's on the Bloomberg Terminal.
LEARN MORE