CVR Energy Lifts Poison Pill on Icahn's $2.6 Billion Bid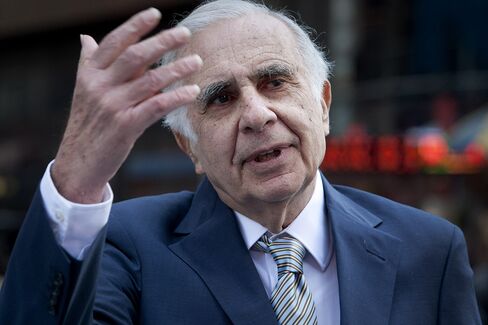 CVR Energy Inc., the owner of two oil refineries, is allowing billionaire investor Carl Icahn's $2.6 billion tender offer to go forward after it gained majority support from shareholders earlier this month.
An agreement with the company removes the so-called poison pill that the board may have used to block the transaction announced Feb. 16, Icahn said today in a statement. Icahn is offering to buy shares at $30 apiece plus an additional payment if he's able to resell the company, Sugar Land, Texas, based CVR said in a separate statement today.
Icahn, the largest shareholder with a 14.5 percent stake, has criticized CVR's management and said the company should put itself up for sale. The agreement today would force Icahn to sell if he gets an offer of at least $35 a share. CVR has benefited from cheaper crude in the midwestern U.S., allowing it more profit on oil processed at two inland refineries.
The board said it still doesn't recommend that stockholders accept the offer, because it believes the company is worth more than $30 a share. The board understands that "many of the company's stockholders may prefer to realize value in the near term," according to the statement.
The agreement is contingent on Icahn improving protections for shareholders who don't tender their stakes and reducing the risk a deal won't close. Under the agreement, Icahn will allow shareholders a second opportunity to tender their shares if his initial offering is successful.
CVR Sale
CVR rose 8.2 percent to $30.16 at 4:15 p.m. in New York, the biggest gain since Aug. 11. The shares have climbed 36 percent since Jan. 12, the day before Icahn's stake in the company was disclosed.
After taking a stake in the company, Icahn called for its management to sell CVR. In February, he announced an unsolicited tender offer, seeking to gain majority control. He announced April 3 that 55 percent of shares were tendered in response to his offer.
CVR owns oil refineries in Kansas and Oklahoma with a combined refining capacity of 185,000 barrels a day. The company also holds a majority stake in fertilizer-producer CVR Partners LP.
Icahn said he will retain an investment bank to conduct a sale process of CVR after the tender is completed.
Before it's here, it's on the Bloomberg Terminal.
LEARN MORE