Big Banks: Now Even Too Bigger to Fail
Fed officials openly worry about the perils of another collapse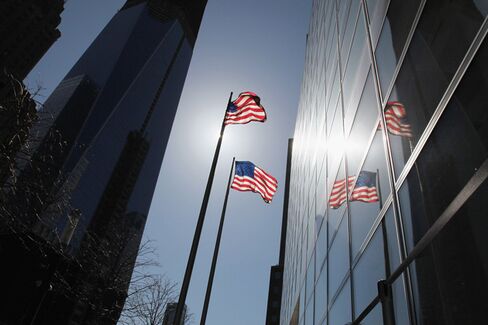 Two years after President Barack Obama vowed to eliminate the danger of financial institutions that are too big to fail, the nation's largest banks are bigger than they were before the financial meltdown. Five banks—JPMorgan Chase, Bank of America, Citigroup, Wells Fargo, and Goldman Sachs—held more than $8.5 trillion in assets at the end of 2011, equal to 56 percent of the U.S. economy, according to the Federal Reserve. That's up from 43 percent five years earlier.
The Big Five today are about twice as large as they were a decade ago relative to the economy, meaning trouble at a major bank would leave the government with the same Hobson's choice it faced in 2008: let a big bank collapse and perhaps wreck the entire economy or inflame public ire with a costly bailout. "Market participants believe that nothing has changed, that too-big-to-fail is fully intact," says Gary Stern, former president of the Federal Reserve Bank of Minneapolis.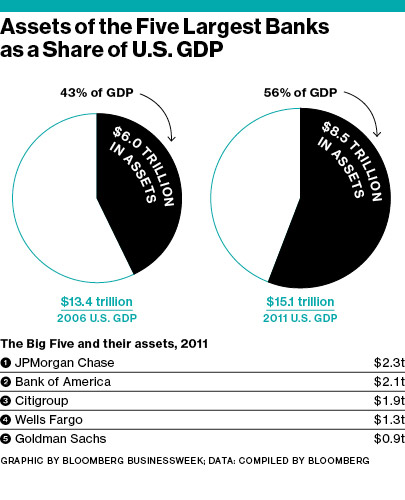 In recent weeks, at least four current Fed presidents—Esther George of Kansas City, Charles Plosser of Philadelphia, Jeffrey Lacker of Richmond, and Richard Fisher of Dallas—have voiced concern about the risk of another crisis if one or more of the big banks were to fail. Giant institutions sheltered under an invisible government umbrella pose "a clear and present danger to the U.S. economy," the Dallas Fed's annual report cautioned last month.
This isn't what the president had in mind two years ago when he vowed to "prevent the further consolidation" of the banking industry. The sprawling Dodd-Frank financial regulation bill that he signed in July 2010 was designed to avoid a repeat of the government's frantic rescue of failing banks amid the 2008 crisis. Citing higher capital and liquidity standards, new powers to take over a failing giant institution, and prohibitions on the largest banks acquiring competitors, Treasury Secretary Timothy Geithner said in February that the U.S. financial system is "significantly stronger than it was before the crisis."
Fifteen of the 19 largest U.S. financial institutions last month passed a Fed stress test that measured their ability to withstand a deep recession. JPMorgan, which has swelled to $2.3 trillion in assets from $2 trillion when Dodd-Frank was signed, has repeatedly boasted about its "fortress balance sheet." Bank of America, which was about 50 percent larger at the end of 2011 than five years earlier, is gradually shrinking and says it has boosted to 29 months the amount of time it could operate without external funding. "We're a much stronger company than we were heading into the crisis," says Jerry Dubrowski, a Bank of America spokesman.
Yet credit-rating companies Standard & Poor's and Moody's aren't convinced the too-big-to-fail threat has been vanquished. They assert that the government would rescue megabanks in a future crisis. Affluent depositors increasingly prefer the biggest banks, even if they could earn higher interest rates elsewhere. The implicit government guarantee compensates for a little lost interest.
Dodd-Frank requires that the biggest banks draft contingency plans specifying how they would be gracefully wound down in a crisis. Fed officials such as Lacker see those "living wills," due by July, as critical. Yet even if those safety measures work as planned, the underlying risk remains, says Richard Spillenkothen, the Fed's director of banking supervision and regulation from 1991 to 2006. "Probably the only way you can be 100  percent sure you've solved too-big-to-fail," he says, "is by doing away with banks that are too big."
Before it's here, it's on the Bloomberg Terminal.
LEARN MORE