Obama Offers Green Groups Mixed Measure on Day of Endorsement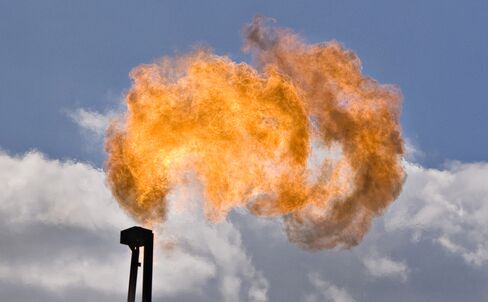 April 19 (Bloomberg) -- On the day environmental groups endorsed President Barack Obama's re-election, his administration delayed for two years gas-drilling requirements that clean-air advocates say are needed and overdue.
The new rules, the first of their kind for drilling, were described by the Clean Air Task Force, among groups pushing hardest for the standards, as a "classic case of good news, bad news," because of a phase-in period until 2015. That's part of a trend that environmental advocates say has become typical during Obama's term.
"They've tried to walk a tight rope," Frank O'Donnell, president of Clean Air Watch in Washington, said in an interview yesterday. "It's a mixed record."
Last month, Obama issued the first standards for greenhouse-gas emissions from new power plants, while abandoning plans to do the same for existing facilities. It shelved rules to cut ozone pollution and is overdue to issue a regulation cutting sulfur in gasoline. The administration did issue an $11 billion rule to cut mercury pollution from power plants and negotiated fuel-efficiency standards with automakers.
Before the Environmental Protection Agency issued the gas-drilling rules yesterday, the Sierra Club, League of Conservation voters and other environmental groups came out to back Obama's re-election, pledging to invest time and money getting him a second term.
'Stand With' Obama
"Together, we must stand with President Obama and against big polluters," Michael Brune, Sierra Club executive director, said. "Because of what we've achieved, our issues are front-and-center in this election."
Donations to Obama's campaign from environmentalists is less than four years ago. Employees of groups or their spouses gave Obama $132,791 so far, according to the Center of Responsible Politics in Washington, down from $300,353 through the same period in the 2008 campaign.
Brune after the endorsement praised the EPA's "major step forward." Those rules are the first to limit air pollution from gas drilling, including 13,000 wells a year drilled by hydraulic fracturing, or fracking. The process opened vast new shale-gas deposits and helped push prices lower. Gas for May delivery touched $1.94 per million British thermal units yesterday, the lowest intraday price since January 2002.
The regulation delays until Jan. 1, 2015, a requirement that drillers capture gases when first tapping a well. An EPA draft would have put the requirements into effect 60 days after the announcement. Operators must burn off that gas during the phase-in period, the EPA said.
Million Cars
"The climate impact of this delay may be as bad as putting an additional million cars on U.S. highways," Ann Weeks, senior counsel of the Clean Air Task Force in Boston, said in a statement.
Industry lobbyists, who had pressed the administration for revisions, said they appreciated the steps taken in response to a last-minute campaign by oil and gas companies.
"Overall, EPA has made some important adjustment in the rules that allow" the industry to comply, Howard Feldman, research director for the American Petroleum Institute in Washington, said in an interview. The group, which said it is reviewing the rule, represents companies such as Chesapeake Energy Corp. and Exxon Mobil Corp.
A few companies said they backed the overall effort to cut down on these fugitive natural-gas losses, though stopped short of endorsing the standard.
'Significantly Overstated'
"The rules are consistent with the intent of our operating principles, which include steps to reduce air emissions from our operations," Kelly op de Weegh, a spokeswoman for Shell Oil Co., said in an e-mail.
The EPA's estimates for emissions on which the rule is based are "significantly overstated" and the standard may impede development of some wells, Barry Russell, chief executive officer of the Independent Petroleum Association of America, said in a statement.
"While the new standards provide industry with a phased in approach for new control requirements, their effect on our nation's independent oil and natural gas producers -- companies that drill 95 percent of wells with an average of 12 employees - - as well as our economy and our national security has the potential to be profound," Russell said.
Devon, Southwestern
Devon Energy Corp. said 90 percent its wells now capture the gas and Southwestern Energy Co. says almost all wells in the Marcellus and Fayetteville shale formations do so already.
"Every molecule of gas you let escape out into the air is a molecule of gas you can't sell," Tim Hartley, a spokesman for Oklahoma City-based Devon, said in an interview.
In the interim, the EPA added incentives to prod drillers to use a technology called green completions in which gas is trapped. For example, companies that refracture a well and use green completions won't be subject to state permitting requirements, according to EPA documents.
Environmentalists said the incentives are crafted to encourage action by companies.
"I wish there was no phase-in period," David Doniger, policy director for the climate and clean air program at the Natural Resources Defense Council in Washington, said in an interview. "But the standards contain incentives for companies to do the right thing before the 2015 deadline."
The administration satisfied neither business interests nor advocacy groups with two actions in December. The Transportation Department's hours of service rules for truckers upset industry and traffic-safety groups, prompting legal challenges from both. The Federal Aviation Administration's fatigue-prevention rules, setting shorter work hours for pilots of passenger aircraft and exempting cargo-carrier pilots, led to a suit by a union for pilots at United Parcel Service Inc.
To contact the reporter on this story: Mark Drajem in Washington at mdrajem@bloomberg.net
To contact the editor responsible for this story: Jon Morgan at jmorgan97@bloomberg.net
Before it's here, it's on the Bloomberg Terminal.
LEARN MORE