Sino-Forest Says Chan Resigns From Company He Co-Founded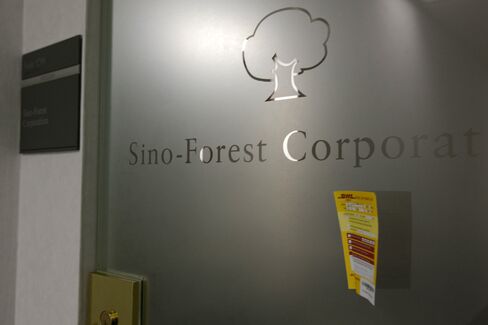 Sino-Forest Corp., the Chinese tree grower that's fending off fraud allegations, said Allen Chan resigned from the company he co-founded two decades ago.
Chan, who stepped aside as chairman and chief executive officer in August, has "voluntarily" quit his non-executive position as Chairman Emeritus, Hong Kong- and Mississauga, Ontario-based Sino-Forest said yesterday in a statement. David Horsley also resigned from his post as chief financial officer while remaining as an employee to help with restructuring, Sino-Forest said.
Sino-Forest filed for bankruptcy protection in March, nine months after short seller Carson Block accused it of fraud. A June 2 report by Block's Muddy Waters LLC alleged Sino-Forest was a Ponzi scheme that overstated its timber assets.
The Muddy Waters report led to a 74 percent drop in Sino-Forest's Canadian share price before the Ontario Securities Commission suspended trading in August amid investigations by the Toronto-based market watchdog and federal police. Sino-Forest, which had a market value of C$6.36 billion ($6.42 billion) in March 2011, has denied Block's allegations.
The company also fired three vice presidents, Alfred Hung, George Ho and Simon Yeung, and said Albert Ip, a former executive, will no longer be employed as a consultant.
Shares of Greenheart Group Ltd., a unit of Sino-Forest with assets in Suriname and New Zealand, gained 5.9 percent to 54 cents at the close in Hong Kong. The stock has dropped 39 percent since Sino-Forest's Toronto-traded shares were suspended on Aug. 25.
Regulatory Notices
Canada's securities regulator has served Chan, Hung, Ho, Yeung, Ip and Horsley with enforcement notices, the company said in an April 9 statement. The notices are usually issued by the OSC close to the end of an investigation and say that staff are considering formal proceedings, Sino-Forest said.
Muddy Waters' allegations increased investor scrutiny of Chinese companies trading on North American stock exchanges. The Bloomberg Chinese Reverse Mergers Index, which tracks 82 Chinese companies trading on U.S. bourses, fell 41 percent in the year to April 17, while the S&P 500 Index rose 5.4 percent.
Chairman William Ardell said in February the company hasn't been able show it controls a purported 788,700 hectares (3,045 square miles) of timber in China. Ardell led a $50 million, eight-month probe by Sino-Forest directors that concluded the company may never be able to disprove some of Block's allegations.
About 80 percent of Sino-Forest's timber assets measured by value are held by subsidiaries based in the British Virgin Islands, Ardell said in a February interview.
Sino-Forest Suit
Those units use suppliers and what the company calls "authorized intermediaries" in China to buy and sell timber and plantation harvesting rights. That structure is "an unjustifiable black hole" used to fabricate sales, avoid tax and overstate timber holdings, Muddy Waters said in the June report.
"These companies are considered foreign companies in China, and it is difficult for these companies to repatriate cash offshore without significant negative tax consequences," Annisa Lee, a Hong Kong-based credit analyst at Nomura Holdings Inc., wrote in a April 10 note.
Sino-Forest filed a lawsuit in Ontario Superior Court on March 30 against Muddy Waters and Block relating to the allegations, which it says are defamatory. The company said it's seeking damages and the recovery of profits made by Muddy Waters and others in connection with the report. Block said in a March 30 e-mail that the lawsuit is "entirely without merit" and that he stands behind the report.
Sino-Forest's application for protection from creditors was part of an accord with bondholders to either sell the company to a third party or undergo a restructuring that would give them most of the remaining assets.
"It remains highly uncertain as to how an asset sale can be done in a meaningful way," Nomura's Lee said. The company may run out of cash by the second quarter of next year if it fails to sell its assets in 2012, she said.
Before it's here, it's on the Bloomberg Terminal.
LEARN MORE