Sustainability Indicator: 70% Urban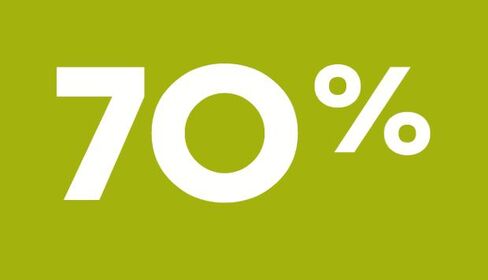 By Sustainability Editors
Today's sustainability indicator, 70 percent, is the proportion of the world's population that will be living in urban areas by 2050. About half of the population is now rural.
This month's indicators:
$5 trillion: global investment in clean energy by 2020 to contain climate change.
$409 billion: worldwide government subsidies given to the fossil-fuel industry in 2010.
$66 billion: global subsidies for renewable energy in 2010.
$90 billion: wealth of the richest 70 members of China's National People's Congress.
$7.5 billion: wealth of all 660 top officials in the three branches of U.S. government.
134: earthquakes last year in central U.S., where seismic activity is linked to fracking.
21: average annual earthquakes in central U.S. in the three decades prior to 2000.
13 million tons: CO2 emissions saved by Wal-Mart's recycling and waste-reductions last year.
2.3 million: cars needed to be taken off the road to reduce CO2 emissions by 13 million tons.
240 gigatons: mass lost from the Greenland ice sheet each year from 2002 to 2012.
0.7 millimeters: annual sea level from the melting Greenland ice sheet.
61 percent: amount of Spain's electricity demand that was met by wind power on April 16.
396.53 parts per million: carbon dioxide in the atmosphere as of April 14.
350 parts per million: maximum CO2 before environmental damage from climate change.
130 billion pints: beer consumption expected in China in 2016.
29%: increase in China's 2016 beer consumption over 2011.
$1 trillion: worldwide investments in renewable energy through 2011.
82%: decline in solar panel prices since August 2009.
117,182: electric cars and hybrids vehicles sold globally last quarter.
49%: rise in electric and hybrid sales compared with the same quarter a year ago.
$260 billion: global investment in renewable energy in 2011.
$54 billion: investment in renewables in 2004.
73.3 gigawatts: additional global wind and solar capacity planned for 2012.
55 million: U.S. homes powered by 73.3 gigawatts.
2 billion: people expected to be added to the Earth's population by 2050.
80%: additional energy capacity needed for anticipated energy needs in 2050.
15,000: temperature records broken in the U.S. in March.
Visit www.bloomberg.com/sustainability for the latest from Bloomberg News about energy, natural resources and global business.
-0- Apr/26/2012 22:19 GMT
Before it's here, it's on the Bloomberg Terminal.
LEARN MORE