Johnny Damon Signs Contract With Cleveland Indians, ESPN Reports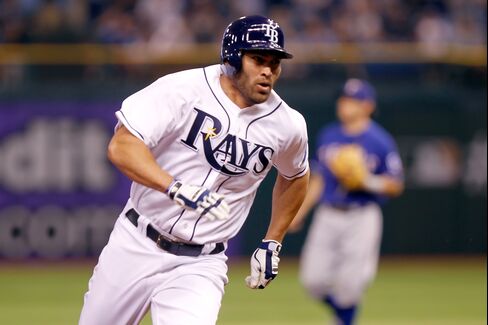 Johnny Damon signed with the Cleveland Indians, ESPN reported, bringing the 38-year-old free-agent outfielder to his fourth Major League Baseball team in as many years.
Damon, who won World Series titles with the New York Yankees and Boston Red Sox, confirmed to ESPN that he's finished a deal with the Indians, though terms weren't disclosed. Indians spokesman Bart Swain didn't immediately return messages seeking comment on the report.
Damon, a career .286 batter who is 277 hits shy of 3,000, joins a team that entered today with a major-league-worst .176 batting average.
Damon spent last season with the Tampa Bay Rays, hitting .261 with 16 home runs, 73 runs batted in, 79 runs scored and 19 stolen bases. He's spent his entire 17-year career in the American League, also playing with the Yankees, Red Sox, Detroit Tigers, Oakland Athletics and Kansas City Royals.
Before it's here, it's on the Bloomberg Terminal.
LEARN MORE