European Industrial Output Unexpectedly Rises: Economy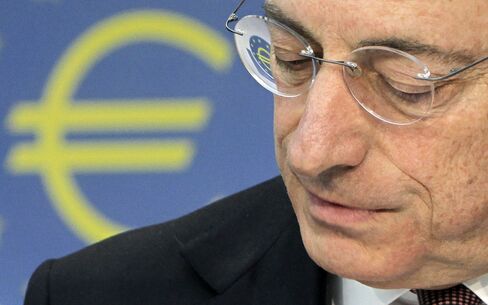 Euro-area industrial production unexpectedly rose in February, driven by a weather-related surge in energy output, even as the region's economy continued to slide into a recession.
Production in the 17-nation euro area increased 0.5 percent from January, when it remained unchanged, the European Union's statistics office in Luxembourg said today. Economists had forecast a drop of 0.2 percent, the median of 23 estimates in a Bloomberg News survey showed. From a year earlier, production decreased 1.8 percent.
Energy output jumped 7.7 percent during a cold snap in many European countries after a 0.7 percent gain in January, according to today's report. Production of capital goods such as machinery rose 0.7 percent, while output of durable and non-durable consumer goods and intermediate goods declined.
"The outlook for the industrial sector is bleak," Martin van Vliet, an economist at ING Group in Amsterdam, said in an e-mailed note. "Some companies will undoubtedly benefit from the ongoing growth in Asia and the improving situation in the U.S. But with the fiscal squeeze in the euro zone intensifying and the debt crisis very much alive and kicking, any (further) upturn in euro-zone industrial activity later this year will likely be modest."
Euro Reaction
The euro pared gains after the data were released, trading at $1.3127 at 12:22 p.m. in Brussels, up 0.1 percent. The Stoxx Europe 600 Index was little changed at 254.31.
European Central Bank President Mario Draghi said on April 4 that while economic-growth indicators had "broadly stabilized at low levels" after a 0.3 percent contraction in the fourth quarter, the outlook "remains subject to downside risks." The European Commission forecasts a 0.3 percent contraction in 2012.
A 0.2 percent drop in industrial output in Germany, Europe's largest economy, was offset by a 0.2 percent increase in France and a 13 percent jump in the Netherlands, according to today's report. Spanish production fell 0.5 percent. No data were available for Italy.
Today's data "might look good, but in reality they are just boosted by one-off factors," said Annalisa Piazza, a fixed-income analyst at London-based Newedge Group, which forecasts a "small contraction" for the euro-area economy in the first quarter, "confirming the technical recession story."
Japan Stimulus
In Asia, Bank of Japan Governor Masaaki Shirakawa pledged to continue to add monetary stimulus amid growing calls from politicians for the central bank to do more to end deflation.
"The BOJ will pursue powerful easing" to help overcome deflation and put the economy on a sustainable growth path, Shirakawa said at a branch manager meeting in Tokyo today, reaffirming the stance. Stimulus measures announced Feb. 14 drove down the yen, aiding exporters.
The trade deficit in the U.S. probably retreated in February as imports cooled from a record, economists said before a report today.
The gap shrank to $51.8 billion from $52.6 billion in January, according to the median of 73 estimates in a Bloomberg News survey. It would be the largest back-to-back readings since late 2008. Other reports may show wholesale prices climbed at a slower pace and claims for jobless benefits were little changed.