Dodging a Tsunami, Asia Is Poised for Strong Growth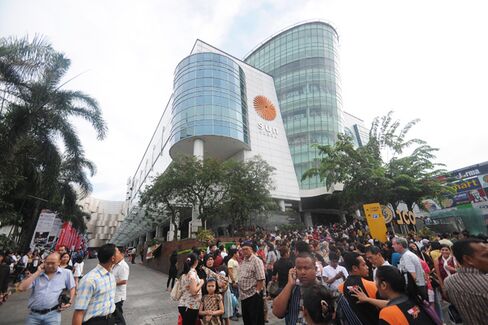 Apart from China's Bo Xilai political scandal, the big news in Asia this week is what didn't happen: An 8.6 magnitude earthquake off the coast of Indonesia on Wednesday didn't cause a tsunami, sparing countries around the Indian Ocean a repeat of the Boxing Day disaster of 2004, when 220,000 people died from a series of devastating tidal waves. Although the airport on the Thai tourist island of Phuket closed after the quake, and there was a power outage in Aceh, Indonesia, few injuries were suffered, and the situation returned to normal within a few hours. "We are very lucky," says Rajiv Biswas, Asia-Pacific chief economist for IHS Global Insight in Singapore.
For Southeast Asia's economies, the near miss provides much-needed relief. The region is highly vulnerable to earthquakes, volcanoes, and other disasters. Thailand, for instance, suffered from massive floods last year that inundated factories near Bangkok; because of the deluge, the Thai economy grew just 0.1 percent in 2011. Southeast Asia has shown resilience, though. Even with the debt crisis in Europe, the sluggish economy in the U.S., and a slowing economy in China hurting export markets, the region is poised to enjoy stronger growth. Southeast Asia's economy will likely grow 5.2 percent this year, according to the Manila-based Asian Development Bank, up from 4.6 percent last year. The Philippines is enjoying strong export growth, with shipments in February jumping 14.6 percent year-on-year to $4.43 billion, the government's National Statistics Office reported on Thursday. Economists had been expecting an increase of just 1.7 percent, according to a survey by Bloomberg News.
Even Thailand is doing well. The country is recovering from the floods, and the ADB predicts the country's GDP will increase 5.5 percent this year. "We are looking at a complete rebound of growth in the first quarter," says Moody's Analytics' Katrina Ell, an associate economist in Sydney. "We expect them to bounce back quite strongly."
As they prepare for the next natural disaster, Asian policy makers need to pay more attention to man-made problems, the ADB contends. Developing countries in Asia have achieved major progress in fighting poverty, the bank reported on Wednesday. "Over the past 2 decades, developing Asia has reduced poverty faster than any other region of the world, at any time in history," according to the ADB's report. The gap between rich and poor, however, is growing in the region, even as Latin America and other parts of the developing world enjoy falling inequality.
"Rising income inequality threatens the basis for the long-term growth by undermining social cohesion and worsening the quality of governance, and also increasing pressure for more populist policies," Changyong Rhee, the ADB's chief economist, told Bloomberg Television on Wednesday. "How to make Asian economic growth more inclusive and address income inequality is a new challenge that Asian policy makers have to confront."
Before it's here, it's on the Bloomberg Terminal.
LEARN MORE