Yankees, Red Sox Win First, Mets Only Team in Baseball at 4-0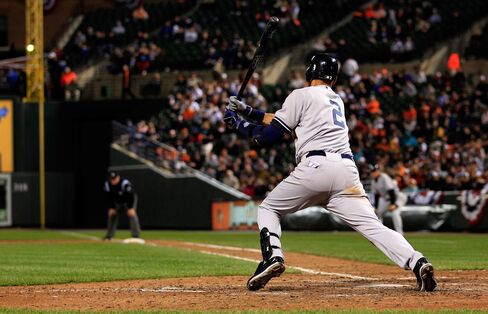 April 10 (Bloomberg) -- Derek Jeter had four hits as the New York Yankees won their first game of the season. Daniel Murphy singled in the winning run in the ninth inning and the New York Mets extended their perfect start to four games.
The Boston Red Sox and San Francisco Giants joined the Yankees by winning for the first time in 2012. The Atlanta Braves and Minnesota Twins lost again and are the only 0-4 teams in Major League Baseball.
Yu Darvish settled down after a four-run first inning to win his pitching debut for the Texas Rangers. He gave up three hits to Japanese countryman Ichiro Suzuki in an 11-5 win against the Seattle Mariners.
Andruw Jones hit a solo home run and Ivan Nova allowed two runs in seven innings to get the win in the Yankees' 6-2 defeat of the Orioles at Camden Yards in Baltimore, allowing the Yankees to avoid their first 0-4 start since 1973.
The Mets are the only 4-0 team in MLB after a 4-3 home win against the Washington Nationals. It's the first time since 2007 that they have won four games to open a season.
The Red Sox scored three runs in the ninth inning to win 4-2 at Toronto. The Giants got their first win when Barry Zito pitched a four-hitter in a 7-0 defeat of the Colorado Rockies.
To contact the reporter on this story: Rob Gloster in San Francisco at rgloster@bloomberg.net
To contact the editor responsible for this story: Michael Sillup at msillup@bloomberg.net