Crowdfunding Sites Launch a Preemptive Strike on Fraud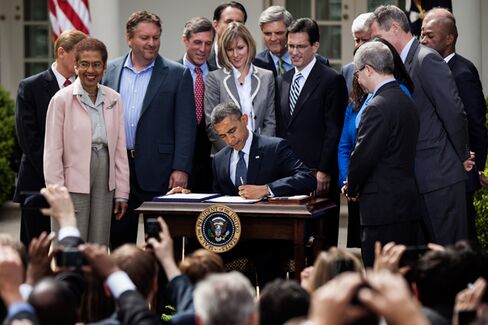 The crowdfunding provisions of the JOBS Act, which President Obama signed into law on April 5, are intended to make it easier for entrepreneurs to raise small amounts of capital from individual investors. The new law allows private companies to raise up to $1 million annually, and the transactions can take place over websites that register with the U.S. Securities and Exchange Commission. The SEC has 270 days to write the rules and set up the registration process; the law is expected to take effect after that, most likely in early 2013.
The forthcoming changes are prompting concern that scammers will descend on the fledgling market and mire it in fraud, says Sara Hanks, a longtime securities attorney who served as general counsel for the TARP Congressional Oversight Panel under Harvard professor and current Senate candidate in Massachusetts Elizabeth Warren. "There will be unregistered people cropping up [to offer small business equity investments] and the SEC will spend a lot of time shutting them down," Hanks says. "This is either going to be a fantastic way to encourage more collaborative, democratic capitalism, or—if we can't make it work honestly—it turns into time shares" and gets shunned.
The crowdfunding community has been organizing to institute standards and policies to protect itself. Crowdfunding platform operators and industry experts launched the Crowdfunding Accreditation for Platform Standards (CAPS) program in March. It is an accreditation process for sites that handle transactions, designed to protect both investors and the entrepreneurs seeking capital for their businesses, says Kevin Berg Grell, CAPS program director.
So far, the group has accredited eight crowdfunding platforms, giving them its seal of approval based on a 22-question survey and follow-up interview that focuses on the sites' transparency, payment and information security, functionality, and operational procedures. "We are asking if the proper level of contact information and state of incorporation is in place, if there is presentation of key personnel," Grell says. "For a company serving as a financial intermediary, it's very important that people be able to assess the clout behind it." The platforms seeking accreditation must also have posted terms of use around copyright and privacy issues as well as procedures for disposition of funds in case the platform goes out of business, he says.
Given the inherent riskiness of small business investment generally—and crowdfunding specifically—Grell says the CAPS program has established stringent standards, particularly around payment security. He has already gotten many inquiries about accreditation, he says, including from platforms that have been operating in international jurisdictions and are eager to set up in the U.S. "I was talking to a potential accredited platform yesterday that has been in operation for seven years overseas," he says. "They heard what we are looking for and wanted to hold their submission until they had put some of the things that we're suggesting in place. I think that's encouraging."
Complementary services aimed at crowdfunding participants are also in the works. In January, securities attorney Hanks co-founded a new company, CrowdCheck, that will vet companies seeking investments. Her startup will not evaluate business ideas, but it will provide assurance that the entrepreneurs are who they say they are, look into criminal records, and determine if they have the proper licensing and credentials.
The service will be paid for by the entrepreneurs seeking funding, or by the crowdfunding portals themselves, Hanks says; pricing and other details are still being worked out. "It's the due diligence we would do before our grandmother put $1,000 into an investment. We'll be checking out finances and kicking the tires—possibly even literally because a lot of people are going to be funding their favorite food trucks," Hanks says.
From funding food trucks to pizza parlors and the new ad agency in town, the reach of the new legislation is only beginning to be imagined, says Jeff Stibel, chairman and chief executive officer of Dun & Bradstreet Credibility, a business credit bureau targeting small and mid-sized businesses. "I can see a day where you get a 10-percent-off coupon from your dry cleaners and a flyer pitching a 10 percent investment in their business," he says. "Unfortunately, just because your clothes are well-pressed, that doesn't mean your dry cleaner is a good investment."
While Stibel says he applauds the innovation behind the JOBS Act and is excited to see how it will help entrepreneurs overcome high funding hurdles, he thinks the legislation "got steamrolled" through Congress with a lot of regulatory detail left out. "It's the Wild West meets the Internet meets Las Vegas," he says.
It's not only investors but small business owners generally who could be tainted by association if widespread fraud occurs, Georgetown University business professor Reena Aggarwal says. "My concern is that we will see a two-phase process, with companies initially raising capital and everything positive, and then a couple of bad apples and bad press that will bring the regulators back in and make investors leery about putting in money, which will slow down the market," she says.
Aggarwal has seen the pattern play out in her research on small-market stock exchanges in the U.S. and U.K. "It's really tough for them to succeed in a sustainable manner. Either the good companies grow and graduate to the bigger exchanges, leaving only the lemons left on that [small market] exchange, or they get mired in fraud and growth slows considerably due to bad publicity," she says.
Before it's here, it's on the Bloomberg Terminal.
LEARN MORE