Jobs Preview: It's 2008 All Over Again (In a Good Way)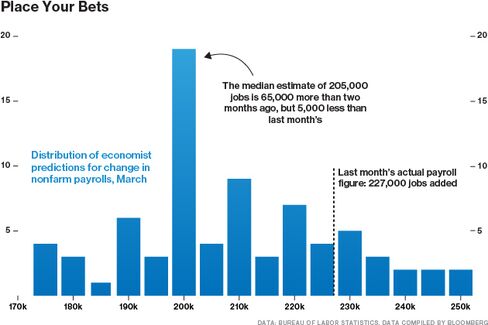 It suddenly feels a lot like the spring of 2008. Jobless claims are now lower than they've been since April 2008. And consumer confidence is at its highest since March 2008. Of course, the economy was in a recession back then—we just didn't know it at the time. Having two economic indicators suddenly revert to levels not seen since before the financial crisis should bode well for Friday's March payroll number.
In Bloomberg's survey of economists' projections, the median estimate is that the economy added 205,000 new jobs last month. The high guess was 250,000. Four economists submitted a low-ball estimate of 175,000, which is well above last month's low number of 125,000. All 77 economists who submitted estimates did so before ADP released its private-sector jobs number on Wednesday, which came in at 209,000 and was generally seen as strong, especially since February's number was revised up to 230,000 from 216,000.
The ADP number over the past year has undershot and overshot the BLS figure about the same number of times. Since government layoffs appear to be slowing, more economists seem to be betting that Friday's payrolls number will come in higher than the ADP.
There's also a growing sense that unseasonably warm temperatures this winter have made the recovery look better than it actually is by pulling forward activity (including hiring) that would otherwise have taken place later in the year. Some of the more bullish economists think that warm weather is actually catalyzing new economic activity rather than stealing it from future months.
"I don't buy into the warm weather argument," says Markus Schomer, chief economist at PineBridge Investments. Schomer estimates that we'll see 240,000 new jobs added to payrolls in March. That might not be the number we get on Friday, but Schomer is betting it will eventually be revised up to 240,000, considering how the past several months' jobs numbers have been revised up instead of down.
Schomer ranks fifth-highest among Bloomberg's top 10 most accurate economists at projecting the jobs picture. Six of the top 10 believe the March jobs number will come in at 215,000 or higher. Underlying Schomer's optimism is his view on the warmer weather. "It think it's acting as another fiscal stimulus," he says. "I don't think we're borrowing activity from later in the year; I think we're accelerating the recovery process."
Of course, there are those who disagree. Among them is Millan Mulraine, senior U.S. strategist at TD Securities, who is one of the four economists surveyed who believes the March payroll number will be 175,000. Mulraine says the warm weather has indeed painted a rosier picture in the first quarter than the underlying reality supports. "The momentum we've seen has been driven by favorable seasonal factors," says Mulraine, who thinks first-quarter growth will come in between 1.7 percent and 2 percent.
Before it's here, it's on the Bloomberg Terminal.
LEARN MORE