Texas Drought Pushes Sandhill Cranes to the North: Today's Pic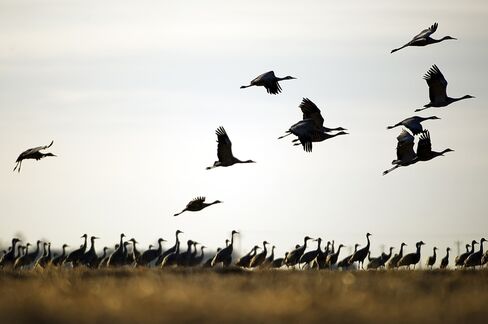 Sandhill Cranes gather in a cornfield near the Rowe Sanctuary, south of Gibbon, on Monday, Jan. 16, 2012. The cranes usually spend the winter further south in Texas and Oklahoma but due to drought conditions many cranes have been spending the winter in Kansas and Nebraska.
In a typical winter, the Texas Gulf Coast is packed with tens of thousands of birds-- songbirds, waterfowl, catbirds, gnatcatchers, warblers and other migrants. But this year, an annual count done just before Christmas found the population had dropped steeply.
Visit www.bloomberg.com/sustainability for the latest from Bloomberg News about energy, natural resources and global business.
-0- Apr/02/2012 16:56 GMT
Before it's here, it's on the Bloomberg Terminal.
LEARN MORE