Commerzbank to Set Up Bad Bank in Move to Wind Down Eurohypo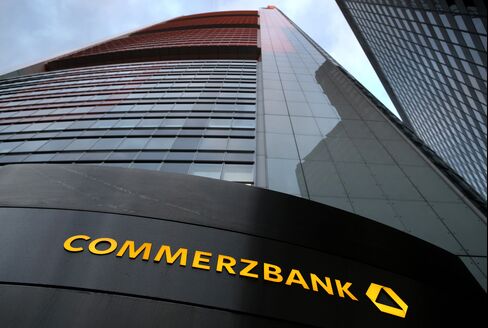 Commerzbank AG, Germany's second-largest bank, will wind down its Eurohypo unit and refrain from acquisitions for two years to meet revised European Commission conditions following its bailout during the credit crisis.
Commerzbank will transfer all of Eurohypo's public finance business and most of its commercial-property unit to a new entity called Non-Core Assets, which will be wound down over time, the Frankfurt-based lender said today in a statement.
The bank tapped taxpayers for funds after agreeing to buy competitor Dresdner Bank two weeks before the September 2008 collapse of Lehman Brothers Holdings Inc. Eurohypo's European government bond holdings have since saddled Commerzbank with losses amid the sovereign-debt crisis. The bank has said a sale of the unit would be difficult because of funding constraints.
"This is pretty much what Commerzbank would have wanted to do anyway," said Christian Muschick, an analyst with Silvia Quandt Research GmbH who recommends investors hold the stock. "It doesn't hurt them much and it's positive for the company."
Commerzbank rose 5.9 cents, or 3.2 percent, to 1.916 euros by 2:09 p.m. in Frankfurt trading. The stock has risen 47 percent this year, valuing the company at about 10.7 billion euros ($14.3 billion).
'Adequate Substitute'
"The winding down of Eurohypo on the balance sheet of Commerzbank plus a prolongation of the acquisition ban are an adequate substitute to the divestiture of Eurohypo," said Competition Commissioner Joaquin Almunia in a statement.
European Union regulators have required banks to sell assets to compensate for the harm to competition caused by state bailouts since 2008.
Commerzbank completed the 4.56 billion-euro acquisition of Eurohypo at the end of March 2006 by buying a combined 66 percent stake from Deutsche Bank AG and Allianz SE. The deal added more than 200 billion euros of assets to Commerzbank, making it Germany's biggest lender after Deutsche Bank.
The prospects for Eurohypo have since soured. Moody's Investors Service cut financial-strength ratings for Commerzbank in January, citing the unit's "weakening resilience and eroding franchise."
"The fact that they don't have to sell Eurohypo is good because they probably would have had to pay someone to take it," said Muschick, who is based in Frankfurt. "The chance they would have tried to buy any sizable assets was pretty low already."
Job Cuts
Commerzbank will wind down 131 billion euros of the 166 billion euros Eurohypo will have in its portfolio at the end of June, according to slides the bank posted on its website today.
The bank said 10 billion euros of Eurohypo retail assets and 25 billion euros of commercial real estate assets in Germany, the U.K., France and Poland, including a maximum of 5 billion euros of annual new business until the end of 2015, will gradually be transferred to Commerzbank.
The lender will cut its balance sheet to 600 billion euros by the end of this year and hold off on making acquisitions until the end of March 2014 under terms of the new deal. Commerzbank reduced its total assets to 662 billion euros by the end of last year from 1.05 trillion euros at the end of 2008, the bank said in February.
Commerzbank said it will now discuss plans to reduce staff with its works council.
"The decision is of course hard for Eurohypo employees," Commerzbank Chief Executive Officer Martin Blessing said in an interview posted on the company's intra-net today. The headcount reduction will be carried out "reasonably and as socially acceptable as possible," he said in the interview, obtained by Bloomberg News.
Employee representatives will probably have "exact" information on jobs cuts and the planned integration of certain parts of Eurohypo by the middle of the year, Uwe Tschaege, the head of Commerzbank's works council, said by phone today.