Swiss Stocks Fall for a Third Day on U.S. Jobless Claims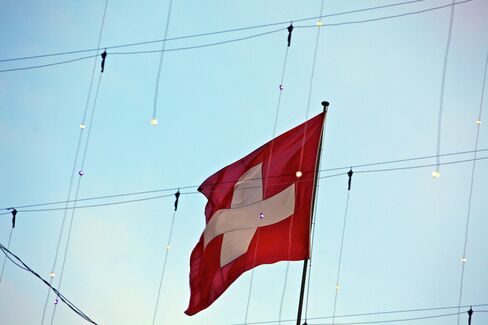 Swiss stocks retreated for a third day as a report showed more Americans filed claims for jobless benefits last week than economists had estimated and Standard & Poor's said Greece may have to restructure its debt again.
Roche Holding AG slid as the drugmaker raised its hostile takeover offer for Illumina Inc. to $6.7 billion. Petroplus Holdings AG declined 11 percent, extending yesterday's 63 percent slump. Nobel Biocare Holding AG rallied after the dental-implant maker's chairman was reported as saying that the company would probably put a takeover offer of at least 17 Swiss francs a share to holders.
The Swiss Market Index, a measure of the largest and most actively traded companies, lost 1.2 percent to 6,176.26 at the close in Zurich. The gauge has still rallied 4 percent so far this year as the European Central Bank disbursed 1 trillion euros ($1.3 trillion) of loans to the region's lenders. The broader Swiss Performance Index slipped 1.1 percent today.
"The macro data has been mixed; it's very ambivalent at the moment," said Trung-Tin Nguyen, a hedge-fund manager at TTN AG in Zurich. "The market is in consolidation mode, hence there's a slight bias to emphasize the negative. Momentum is declining, but still, pressure for asset managers to invest tends to increase."
The SMI has fallen for three consecutive days as reports showed a drop in U.S. consumer confidence in March, while U.S. durable-goods orders rose in February less than forecast.
Today's Labor Department release showed that 359,000 Americans filed claims for unemployment benefits last week, more than the 350,000 average estimate of economists surveyed by Bloomberg News.
Greece Restructuring Warning
Greece will probably have to restructure its debt again and may have to involve bailout partners such as the International Monetary Fund, said Moritz Kraemer, head of sovereign ratings at S&P, at an event in London later yesterday.
The governments of the 17 nations that use the euro are preparing for a one-year increase in the ceiling on rescue aid to 940 billion euros to keep the region's sovereign-debt crisis at bay, according to a draft statement.
"We are coming up to quarter end, so money managers are acting cautiously and booking profits," said James Knightley, senior economist at ING Groep NV in London. "We have the Easter holidays coming up, plus the macro numbers have been a little softer. This is all providing excuses to take off some risk. We remain hopeful that the numbers will improve. If the finance ministers can come up with something positive on the size of the bailout fund, then next week could see a more risk friendly environment."
Roche, Petroplus
Roche slid 1.8 percent to 157 francs after the world's largest maker of cancer drugs raised its hostile bid for Illumina by 15 percent, yielding to demands for a higher price from the U.S. company's shareholders.
Illumina investors have until 6 p.m. New York time on April 20 to tender their stock at $51 a share.
Petroplus sank 11 percent to 24 centimes. The company lost more than half of its market value yesterday after saying it plans to delist in May. The stock has plummeted 98 percent in the past 12 months.
Nobel Biocare added 1.2 percent to 11.06 francs, climbing for the first time in three days. Chairman Rolf Watter was cited in a Handelszeitung report as saying that the company would reject a takeover offer of 14 to 15 francs. He said that shareholders would probably decide whether to accept a bid of 17 to 20 francs.
Nobel Biocare Rises
Handelszeitung earlier reported that investment firm Silchester International holds an 8 percent stake in the Swiss company, citing "a well-informed source." The newspaper gave no other details. Nobel Biocare spokesman Nicolas Weidmann declined to comment when contacted by Bloomberg yesterday.
Banks and insurers pushed the SMI lower, with Swiss Life Holding AG, Switzerland's biggest life insurer, slumping 4.4 percent to 105.90 francs. Zurich Financial Services AG fell 1.7 percent to 238.90 francs. UBS AG and Credit Suisse Group AG, the country's largest lenders, slipped 2 percent to 12.57 francs and 3 percent to 25.64 francs, respectively.
Bobst Group AG gained 4.7 percent to 27 francs, its highest price in more than two months, after Helvea raised its recommendation for the shares to buy from an accumulate rating. Analysts at Vontobel upgraded Bobst's shares to hold.
Before it's here, it's on the Bloomberg Terminal.
LEARN MORE