Sacyr Shares Decline After Exane BNP Cuts Target: Madrid Mover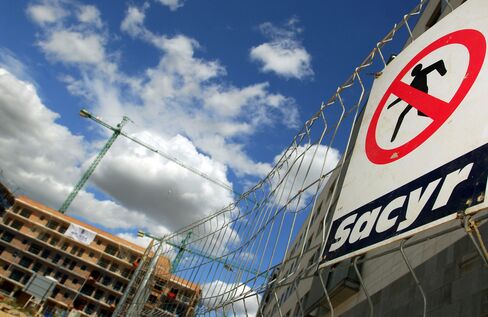 Sacyr Vallehermoso SA, a Spanish construction company, fell in Madrid trading after Exane BNP Paribas cut price targets for some Spanish builders, citing weak domestic demand.
Sacyr dropped 1.6 percent to 2.37 euros, the lowest since April 1993, valuing the Madrid-based company at 1 billion euros ($1.33 billion).
Exane cut Sacyr's share-price target to 4.3 euros from 4.5 euros, while reiterating its "outperform" recommendation on the stock. "Sacyr remains our distressed (albeit riskier) valuation call," Antonio Lopez, an Exane analyst, wrote in a report sent to investors today.
Exane also cut price targets for other builders. Fomento de Construcciones & Contratas SA was reduced to 19.5 euros from 21.5 euros and Cementos Portland Valderrivas SA was cut to 5.5 euros from 6.5 euros. "Refinancing risk will continue weighing on FCC and Cementos Portland," according to the report.
FCC shares fell 3.2 percent to 16.60 euros and Cementos Portland declined 3.4 percent to 6.63 euros.