49ers Add Former Giants Running Back Brandon Jacobs, ESPN Says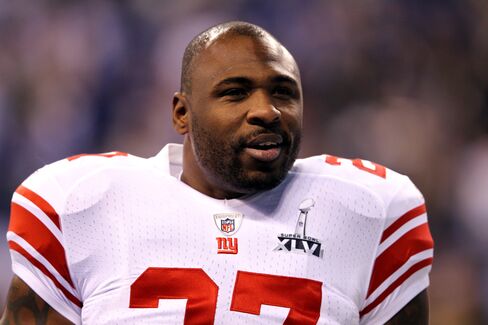 The San Francisco 49ers agreed to a contract with running back Brandon Jacobs, who was released earlier this month by the Super Bowl-champion New York Giants, ESPN reported citing an unidentified person in the league.
Jacobs, 29, was a fourth-round draft pick of the Giants in 2005 and rushed for 4,849 yards and 56 touchdowns over seven National Football League seasons. Last year, he had 571 rushing yards -- his fewest since 2006 -- and scored eight touchdowns.
The Giants cut Jacobs after failing to reach an agreement on a pay cut to his $4.9 million salary, which included a $500,000 roster bonus, according to the Star-Ledger of Newark, New Jersey. ESPN didn't disclose terms of his agreement with the 49ers and team spokesman Bob Lange didn't immediately return an e-mail seeking comment.
Jacobs would team in the 49ers' backfield with starting running back Frank Gore, whose 1,211 rushing yards last season ranked sixth in the NFL. Jacobs is the second former Giant to join the 49ers this month, following free-agent wide receiver Mario Manningham.
The 49ers went 13-3 last season and lost the National Football Conference title game to the Giants.
Before it's here, it's on the Bloomberg Terminal.
LEARN MORE