Lawsuits: A History of Americans Running Into Walls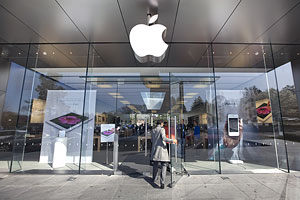 Queens resident Evelyn Paswall, age 83, is suing Apple for $1 million after smashing her face on a glass door and breaking her nose at an Apple Store in Manhasset, N.Y., on Dec. 13, 2011. Glass doors and walls—and poles that come out of nowhere—have terrorized Americans for years. Here are some other victims who claimed injury from these ubiquitous, invisible perils.
Elfer v. Hibernia Nat. Bank In New Orleans (1937)
Numa Elfer claimed to have sustained injuries to his head on May 8, 1935, when he walked into a barbershop display pole that extended over the sidewalk from the side of a building. He also claimed $1 for damage to his hat. "We, however, are well convinced that he sustained neither a 'hickey,' nor a bruise, nor any other injury" and the damage to the hat "may be entirely disregarded," reads the court opinion.
Algirdas Valunas v. J. J. Newberry Co. (1957)
When a 13-year-old boy accompanying his mother in a J.J. Newberry outlet heard fire engines, he tried to leave the store. Unfortunately, blinded by the sun, he walked into a glass panel and injured himself. "Here the location and construction of the doors and panels were plain and obvious and called for no warning from the defendant," reads the opinion.
Edith Shotwell vs. Winthrop Community Hospital & another (1988)
When Edith Shotwell went to visit her sister at Winthrop Community Hospital on the evening of Dec. 11, 1982, the automatic sliding door at the entrance did not open. But Shotwell "strode forward and struck her face against the fixed panel," according to a court document.
Stephen T. Tobin v. National Railroad Passenger Corporation d/b/a Amtrak (1988)
At a conference held by Amtrak in the Brunswick Motor Inn, Amtrak employee Stephen Tobin thought he saw a coffee shop out of the corner of his eye. He claimed he turned suddenly to his right, walked into a glass wall or door, hit his head, and fell to his knees. After regaining his senses, Tobin went to the hotel bar and had a drink before returning to his room, though he alleged that he suffered a concussion due to Amtrak's and the hotel's negligence in maintaining and inspecting the hotel premises. The court found Tobin's "evidence is wholly inadequate to show there is a genuine issue of material fact."
Clay Craig v. City of Laguna Beach (2004)
While walking along a sidewalk on July 7, 2001, lawyer Clay Craig tripped, fell, and broke his leg after colliding with a 25-inch yellow pole. He considered the fire hydrant and "protective pole" a trip hazard and a dangerous condition for pedestrians. The jury absolved the city from responsibility, reported the Huntington Beach Independent.
Before it's here, it's on the Bloomberg Terminal.
LEARN MORE