Noda to Tell Nuclear Security Summit to Heed Fukushima Lessons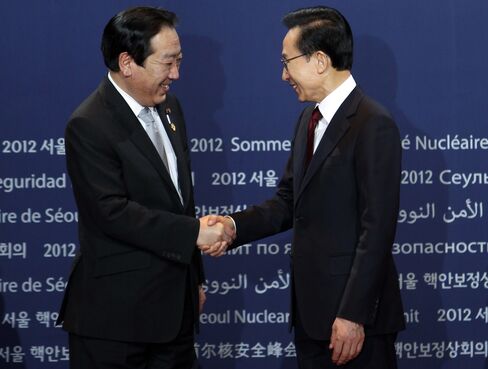 Japanese Prime Minister Yoshihiko Noda will tell world leaders gathered in Seoul for a nuclear security summit to heed the lessons from the meltdown at the Fukushima Dai-Ichi power plant.
Japan failed firstly to anticipate the scale of potential threats, with a tsunami measuring more than 15 meters high on March 11 last year overwhelming sea walls built to cope with a surge one-third that size, the prime minister will say, according to a draft statement provided by his office.
Noda, who became leader last year after the event, will also emphasize that a lack of communication between authorities prevented a quick response and that nations must ensure their police, armed forces and civilian agencies share information and training. Fukushima showed that overconfidence and a dogmatic approach to safety are dangerous, he will say.
"These are the warnings that can be applied not only to an accident caused by a natural disaster, but also to terrorist attacks on atomic facilities," Noda will say, according to the document.
World leaders including U.S. President Barack Obama, Chinese President Hu Jintao and Russian President Dmitry Medvedev are gathered in Seoul for the two-day summit, which ends today.