Insurers Hitting Whitney Bid Reaped Biggest Returns: Muni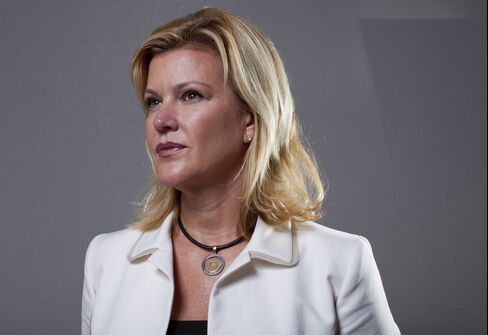 March 23 (Bloomberg) -- Betting against banking analyst Meredith Whitney and her prediction of a wave of municipal defaults paid off for Travelers Cos. and Chubb Corp.
The insurers kept state and local bonds at more than half their debt holdings in 2011, while CNA Financial Corp. and XL Group Plc expanded them, securities filings show. The four are among the 10 largest U.S.-traded property and casualty insurers by market value, according to data compiled by Bloomberg.
They bucked their industry, which cut municipal investments 6 percent last year from 2009, according to the Federal Reserve. Sticking with tax-exempts in 2011 proved a winner, as the $3.7 trillion market returned the most in two years, beating U.S. Treasuries, corporate bonds, commodities and stocks.
"Those companies that did stay with their muni allocation benefited tremendously from a huge rally," said Paul Mansour, head of municipal research at Conning & Co. in Hartford, Connecticut. The firm manages $10 billion for insurance companies among its $87.2 billion of assets.
Property and casualty insurers held a combined $347.1 billion of municipal bonds last year, about 9 percent of the market, according to the Fed's Flow of Funds Accounts report for the final quarter of 2011. That's down $22.3 billion, or 6 percent, from 2009.
Chilling investors at the start of 2011 was Whitney's prediction in December for "hundreds of billions of dollars" of municipal defaults after the longest recession since the 1930s. State and local bonds lost 1 percent in January 2011, the worst first month since 1990, according to a Bank of America Merrill Lynch index of prices and coupon payments.
Under Stress
"We felt that state and local governments were going to continue to come under stress after the financial crisis," Judith Greffin, chief investment officer of Allstate Corp., the largest publicly traded U.S. home and car insurer, said by telephone. "There were better places to go with our money."
Allstate, which began reducing munis before Whitney's prediction, cut the allocation to 19 percent of its $76 billion fixed-income portfolio at the end of 2011 from 32 percent in 2008, according to its filings.
The top 10 property and casualty insurers by market value, excluding American International Group Inc., reduced holdings of state and local debt by $4.8 billion, or 4.4 percent, from 2009 to $105.1 billion last year, according to their filings.
Warren Buffett's Berkshire Hathaway Inc. lowered munis to 10 percent of fixed-income assets at its insurance subsidiaries from 12 percent in 2009. AIG lowered them to $37.5 billion, $16.6 billion less than in 2009, according to its filings.
Reshaped Portfolio
AIG Chief Executive Officer Robert Benmosche is reshaping his $264 billion fixed-income portfolio, partly by selling tax-exempt municipals, as he seeks to wind down the U.S. government's investment after the insurer's 2008 bailout
"Where do I increase my income and try to limit the risk," is a question insurers are trying to answer amid low interest rates, said Dominick Bonanno, a managing director at Brookfield Investment Management Inc. in New York who helps oversees about $10 billion for insurance companies. "It's a balancing act."
Natural disasters, including the earthquake and tsunami in Japan and tornadoes in the U.S., fueled $105 billion of losses for the insurance industry last year, according to Munich Re, the world's largest reinsurer. Interest rates near record lows also limited income from bonds.
"When their profitability gets hit, their capacity to own munis gets hit," George Friedlander, head municipal strategist at Citigroup Inc. in New York, said in a telephone interview.
Failed Prediction
Whitney's default prediction failed to materialize. Missed bond payments last year fell to $2.1 billion from about $2.8 billion in 2010, according to Matt Fabian, a managing director at Municipal Market Advisors in Concord, Massachusetts.
Yields on 20-year general-obligation bonds fell throughout 2011 to 3.6 percent at the beginning of 2012, a 45-year low. That earned insurers the most on municipal holdings since 2009.
The market returned 11.2 percent in 2011, more than the 9.8 percent gain for Treasuries and the 7.5 percent for corporate debt, according to Bank of America Merrill Lynch. The Standard & Poor's 500 Index of stocks was unchanged last year and the S&P GSCI Spot Index of commodities rose 2.1 percent.
New York-based Travelers had 61 percent of its fixed-income investments in munis last year compared with 63 percent in 2009, according to its filings. Chubb, in Warren, New Jersey, held at 54 percent, though its municipal holdings climbed $610 million.
Expanded Holdings
CNA Financial, majority-owned by Lowes Corp., boosted its investment almost $3 billion since 2009 to $9.8 billion and Bermuda-based XL Group doubled to $1.8 billion.
Shane Boyd, a spokesman for Travelers, Chubb's Mark Greenberg, AIG's Mark Herr and CNA's Katrina Parker declined to comment. Buffett didn't respond to a request for comment sent to an assistant. Christine Weirsky at XL Group said Chief Investment Officer Sarah Street was traveling.
Municipal returns may be more modest this year after yields on 10-year tax-exempts rose to 2.38 percent yesterday, the highest since Oct. 31, amid signs of a recovering economy. Yields on top-rated bonds due in 30 years were 3.53 percent yesterday, the highest since Jan. 25.
Tax-exempts have earned 1.7 percent this year through yesterday as Treasuries lost 1.6 percent, according to the Bank of America index. Corporate debt has earned 2.2 percent.
Mansour said he's advising clients to consider riskier bonds rated four to five steps below the top grade.
"We're trying to get as much yield as possible within our boundaries of safety," he said.
Following is a description of a coming sale:
CALIFORNIA STATEWIDE COMMUNITIES DEVELOPMENT AUTHORITY, which helps finance social and economic-growth projects, is set to issue about $2.2 billion of tax-exempt and taxable revenue bonds for hospital chain Kaiser Permanente as soon as April 4, according to data compiled by Bloomberg. S&P rates the largest portion, $1.5 billion of tax-exempts, A+, its fifth-highest grade. Citigroup Inc. is the underwriter. (Added March 22)
To contact the reporter on this story: Michelle Kaske in New York at mkaske@bloomberg.net; Noah Buhayar in New York at nbuhayar@bloomberg.net.
To contact the editor responsible for this story: Mark Tannenbaum at mtannen@bloomberg.net