Traders May Face Nordic-Style EU Fees for Canceled Orders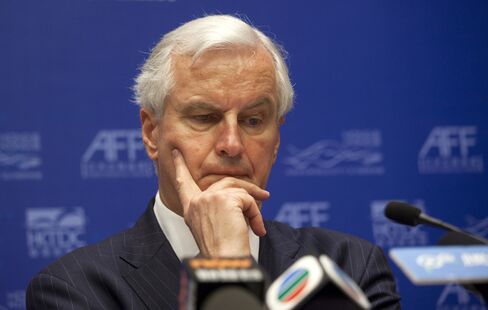 High-frequency traders and other investors may face punitive fees when they create market volatility by placing excessive numbers of canceled orders under European Union plans to clamp down on market abuse.
The possible fees would be modeled on a standard introduced last year on Nasdaq OMX Group Inc. exchanges in Nordic countries, said Arlene McCarthy, a member of the European Parliament, who's seeking to add the measure to a draft law by EU Financial Services Commissioner Michel Barnier.
"There should be an obligation on operators of trading venues to have in place rules to avoid what I would call abusive order entry," McCarthy said in an interview. This should be done via a "fee structure," said McCarthy, who's in charge of preparing parliament's negotiating position on Barnier's market-abuse proposals.
High-frequency traders came under increased regulatory scrutiny following the so-called flash crash in May 2010, during which the Dow Jones Industrial Average briefly lost almost 1,000 points. While such trades didn't trigger the plunge, they did intensify the resulting "liquidity crisis," the International Organization of Securities Commissions said in a report last year.
Strategies used by high-frequency traders can lead to a "very high" number of canceled orders, IOSCO said. Such high cancellation rates have been linked with possible "abusive and manipulative practices," it said. These include so-called layering, in which traders place large orders they have no intention of allowing to go through.
Canceled Orders
McCarthy's proposal is that traders should face fees if they exceed a pre-agreed ratio of canceled orders against transactions completed. The ratio would be binding for exchanges and other regulated venues, such as multilateral trading facilities.
Such fees were introduced last year by Nasdaq exchanges in Copenhagen, Stockholm and Helsinki to counter what the firm described as "excessive order entry."
Under the Nasdaq system, traders face fees of about 1 euro cent per order once they surpass a ratio of 250 orders for every one completed trade. Other exchanges, including Borsa Italiana SpA, owned by London Stock Exchange Group Plc, have taken steps to introduce similar fees.
Hedge Funds
High-frequency trading, often used by hedge funds, entails using powerful technology and complex computer programs to execute orders in milliseconds to profit from fleeting discrepancies in the prices of shares across different trading venues.
The fee system "has been well received by a large majority of our trading participants," Henrik Husman, vice president for Nordic equities products at Nasdaq, said in an e-mail. "It has also helped in constraining the amount of unexecuted orders."
"It's important to find a level" for the ratio "that prevents unwanted behavior but doesn't hurt the market efficiency," he said.
McCarthy said she's seeking support for the fees among other members of the EU assembly. The market-abuse rules must be approved both by parliament and by national governments before they can take effect.
Criminal Sanctions
Barnier's proposals, published in October, include applying criminal sanctions to people found guilty of insider trading and market manipulation.
McCarthy said she would also seek the creation of a unit within the European Securities and Markets Authority tasked with identifying abusive practices by high frequency traders.
"I want a sub-committee set up under ESMA now to begin to look at it in a bit more detail, using national expertise," she said. The authority could alert the European Commission to strategies that should be banned, she said.
As part of the market-abuse curbs, McCarthy said that she may also propose rules on when managers of a company can buy and sell the firm's stock. She will also seek to extend protection of corporate whistle blowers' anonymity, she said.
Separately, Markus Ferber, an EU Parliament lawmaker leading work on another proposal to overhaul EU financial market rules, said that traders should be required to place orders in the market for a minimum length of time before they are withdrawn.
'Circuit Breaker'
"We need a minimum period for keeping an order before it can be cancelled, a so-called circuit-breaker," Ferber said in a statement published on his parliamentary group's website. "On top of that, additional cancellation fees ought to be introduced."
Ferber also called for an "automatic stop of high-volatility transactions on all trading platforms."
A system glitch on a Bats Global Markets Inc. venue today caused erroneous price quotes, with trading in Apple Inc. temporarily halted.
A single trade for 100 shares executed on a Bats venue briefly sent Apple, the world's most valuable company, down to $542.80, triggering a circuit breaker that paused the shares.
Ferber's plan for minimum resting periods before orders can be cancelled "could result in a decrease in liquidity by hampering effective risk management," the FIA European Principal Traders Association, a trade group that represents high-frequency traders, said in an e-mail. "Automated trading technology has been pivotal in improving market quality over the last decade."
Before it's here, it's on the Bloomberg Terminal.
LEARN MORE