Wall Street Profit Estimates Raised by Analysts After Jefferies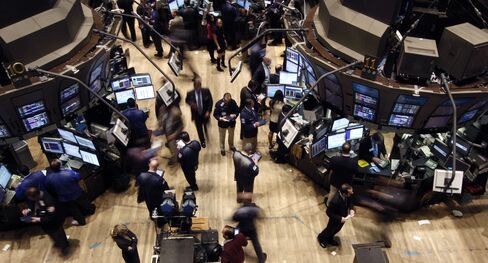 Goldman Sachs Group Inc. and Citigroup Inc. are among firms to have first-quarter earnings estimates raised by analysts after Jefferies Group Inc. announced a surprise jump in fixed-income trading revenue.
Total trading revenue at 10 of the largest investment banks will probably surge more than 70 percent from the fourth quarter, Chris Kotowski, an Oppenheimer & Co. analyst, wrote yesterday. David Trone, an analyst at JMP Securities, said in a note today that fixed-income trading at the five biggest Wall Street firms may climb 76 percent from last quarter.
Banks are likely to benefit from a rising equity market, tightening credit spreads and a pickup in bond issuance. The improved environment comes as Greece reached an agreement with creditors in the biggest sovereign-debt restructuring in history, the U.S. unemployment rate fell and the European Central Bank expanded lending.
Jefferies climbed in New York trading March 20 after reporting fiscal first-quarter earnings that beat analyst estimates as fixed-income trading climbed 6.6 percent from a year earlier and more than doubled from the fourth quarter. Chief Executive Officer Richard Handler said on a conference call that the firm saw "healthy customer flows and reasonable bid-ask spreads."
Jeff Harte, an analyst at Sandler O'Neill & Partners LP, had predicted Jefferies's revenue from trading securities such as bonds would decline from the year-earlier period.
Profit Estimates
Trone raised his first-quarter earnings-per-share estimate for New York-based Goldman Sachs to $3.22 from $2.81. Kotowski increased his Goldman Sachs estimate to $3.31 from $2.91 and boosted his estimate for Bank of America Corp. 2 cents to 14 cents. John McDonald, a bank analyst at Sanford C. Bernstein & Co., increased his Bank of America estimate to 18 cents a share from 12 cents, and Citigroup's to $1.30 from $1.07.
The fourth quarter was the worst for investment banking and trading revenue at the largest firms since 2008, as concern that Europe's debt crisis would lead to a global slowdown crimped trading activity and deal volumes. Trading revenue this quarter will probably remain below the levels of last year's first three months, Kotowski wrote.
Equities-trading revenue may jump 31 percent from the fourth quarter, Trone said. Investment-banking fees will probably climb 16 percent from last quarter, while falling 18 percent from the first quarter of 2011, he wrote.
Before it's here, it's on the Bloomberg Terminal.
LEARN MORE