U.K. Budget Deficit Doubles as Taxes Fall, Spending Jumps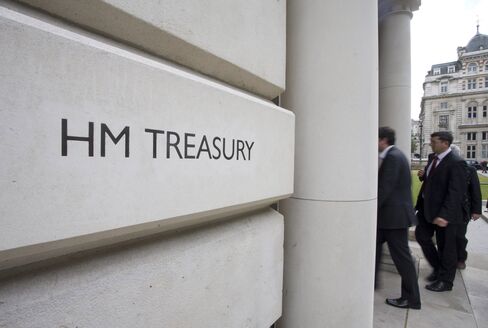 Britain's budget deficit almost doubled in February as taxes fell and spending surged, leaving Chancellor of the Exchequer George Osborne little room to meet his full-year goal as he prepares to announce the annual budget.
Net borrowing excluding support for banks was 15.2 billion pounds ($24.1 billion), the highest for any February on record, compared with 8.9 billion pounds a year earlier, the Office for National Statistics said in London today. The median of 17 forecasts in a Bloomberg News survey was for a shortfall of 8 billion pounds.
Osborne has rejected calls to relax his program of cuts, saying warnings from Fitch Ratings and Moody's Investors Service that Britain could lose its top credit rating reinforce the need to stick to his plan to erase the structural deficit by 2017.
"It provides a very uncomfortable background for the budget," said Philip Shaw, an economist at Investec Securities in London. "We'll get tough talk today but against a really nasty number for February. The fact there has been a worsening on this scale is a big surprise."
Osborne is due to announce his budget statement to Parliament in London at 12:30 p.m.
A separate report from the Bank of England today showed policy makers Adam Posen and David Miles maintained a push for more stimulus this month as the majority favored waiting to monitor the "substantial risks" to the medium-term inflation outlook.
Opposition Calls
The pound fell after the reports and was trading at $1.5846 as of 11:56 a.m. in London, little changed on the day.
With one month of the fiscal year remaining to be reported, the deficit was 110 billion pounds, compared with 118.9 billion pounds in the first 11 months of the previous fiscal year. In November, the Office for Budget Responsibility forecast the full-year deficit would be 127 billion pounds after the economic slowdown forced it to raise its medium-term borrowing projections.
The budget comes amid opposition calls to spur the economy by scaling back cuts that will cost more than 700,000 government jobs. Osborne, whose Conservative Party governs in coalition with the Liberal Democrats, has said concessions will be targeted at people on low and middle incomes, paid for by increasing taxes on the wealthy.
'Off Track'
"Whatever claims he makes in his budget speech, the chancellor is wildly off track on his borrowing plans," Rachel Reeves, a Treasury spokeswoman for the Labour Party, said in a statement. "By choking off the recovery, pushing up unemployment and so borrowing billions more to pay for economic failure, cutting spending and raising taxes too far and too fast has backfired."
In February, tax revenue fell 2.7 percent from a year earlier, driven by lower receipts of self-assessed income tax, the statistics office said. Spending rose 8.3 percent, with current spending and welfare payments both jumping.
The Treasury noted in a statement that tax receipts were weak last month and said customary year-end spending by departments helped push up the budget deficit. Still, the government is "making progress" in cutting borrowing, it said.
The deficit including government support for banks was 12.9 billion pounds compared with 6.1 billion pounds a year earlier. There was a public-sector net cash surplus of 7.8 billion pounds. Economists predicted a 1 billion-pound surplus.
Net debt rose to 995 billion pounds, or 63.1 percent of GDP. That's up from 58.8 percent a year earlier.
Before it's here, it's on the Bloomberg Terminal.
LEARN MORE