Previously Owned U.S. Home Sales Probably Climbed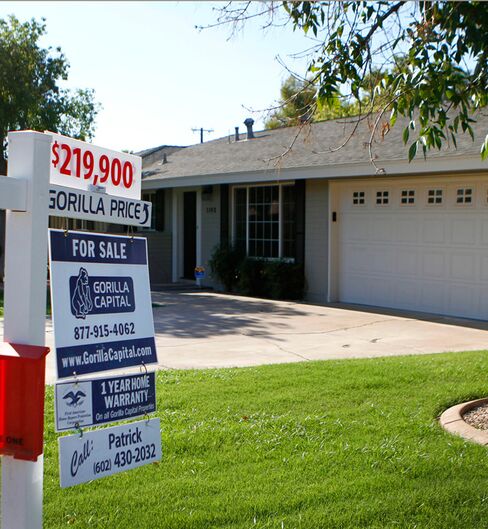 Sales of previously owned U.S. homes probably rose in February to an almost two-year high, adding to signs of stabilization in the real-estate market, economists said before a report today.
Purchases climbed 0.9 percent to a 4.61 million annual rate, the fastest since May 2010, from a 4.57 million pace in January, according to the median forecast of 77 economists surveyed by Bloomberg News. An advance would be the fourth in five months.
The industry that struggled to pick up for most of the economic expansion is stirring as job and income gains, cheaper homes and mortgage rates near the lowest on record keep affordability at an all-time high. At the same time, distressed properties and the threat of more foreclosures may limit the speed at which prices and the residential real-estate market rebound.
"Seeing sales edge up very gradually means things are turning around," said David Semmens, a U.S. economist at Standard Chartered Bank in London. "People are seeing the homes they want becoming more affordable. But mortgage approvals are very low. It's still not easy for people to buy homes in general."
The National Association of Realtors' data are due at 10 a.m. in Washington. Economists' estimates ranged from 4.44 million to 4.8 million.
Existing-home sales, tabulated when a contract closes, climbed to 4.26 million last year from 4.19 million in 2010. Demand peaked at 7.08 million in 2005 during the housing boom. In 2008, sales totaled 4.1 million, the least since 1995.
New-Home Sales
New-home sales, which are calculated using contract signings, have lost their ability to forecast the broader market as demand shifts to cheaper previously owned houses. New properties made up almost 7 percent of the market last year.
The improvement in employment has contributed to the recent housing gains. Payrolls rose in February, capping the best six-month increase since 2006, while the jobless rate held at a three-year low, according to Labor Department figures.
Warmer weather may have may have encouraged more Americans to shop for new properties last month. The average temperature was 38.2 degrees Fahrenheit (3.4 Celsius), 3.6 degrees warmer than the 20th century average and the 17th warmest February in 118 years, according to the National Oceanic and Atmospheric Association.
Cheaper borrowing costs are luring buyers as well. The average rate on a 30-year fixed mortgage reached an all-time low of 3.87 percent in February, according to data from Freddie Mac.
Fed Buying
Federal Reserve policy makers last week said they will continue to swap $400 billion in short-term securities with long-term debt to lengthen the average maturity of the central bank's holdings, a move dubbed Operation Twist and aimed at holding down borrowing costs like mortgage rates.
A measure of housing affordability in January climbed to a record 206.1, according to the National Association of Realtors. A value of 100 means that a family with the national median income has enough to qualify for a median-priced property.
Investors are upbeat about prospects in the housing market and builder shares. The Standard & Poor's Supercomposite Homebuilding Index has advanced 27 percent since the end of last year, compared with a 12 percent gain in the broader S&P 500.
'Strong Note'
"We finished the year on a strong note, entered the year optimistic and still feel fairly optimistic today," Larry Nicholson, president and chief executive officer at Ryland Group Inc., said March 6 at an investor conference in Orlando, Florida. "The good thing about the traffic we are seeing is it's new traffic. We feel a lot better than we did a year ago. Hopefully, we can keep this trend up."
Still, home foreclosures may be slow to wane in the coming months. Filings in the U.S. fell 8 percent in February, the smallest year-over-year decrease since October 2010, as lenders began working through a backlog of seized properties, RealtyTrac Inc. said last week.
A total of 206,900 homes received notices of default, auction or repossession last month, down 2 percent from January, the Irvine, California-based data firm said in a report. One in every 637 households got a filing.
           Bloomberg Survey
============================================
                             Exist    Exist
                             Homes    Homes
                              Mlns     MOM%
============================================

Date of Release              03/21    03/21
Observation Period            Feb.     Feb.
-------------------------------------------
Median                        4.61     0.9%
Average                       4.62     1.0%
High Forecast                 4.80     5.0%
Low Forecast                  4.44    -2.8%
Number of Participants          77       77
Previous                      4.57     4.3%
-------------------------------------------
4CAST                         4.60     0.7%
ABN Amro                      4.64     1.5%
Action Economics              4.75     3.9%
Aletti Gestielle              4.60     0.7%
Ameriprise Financial          4.61     0.9%
Analytical Synthesis          4.62     1.1%
Banca Aletti                  4.55    -0.4%
Banesto                       4.62     1.1%
Barclays Capital              4.64     1.5%
BBVA                          4.65     1.8%
BMO Capital Markets           4.59     0.4%
BNP Paribas                   4.60     0.7%
BofA Merrill Lynch            4.50    -1.5%
Briefing.com                  4.45    -2.6%
Capital Economics             4.65     1.8%
CIBC World Markets            4.61     0.9%
Citi                          4.50    -1.5%
Comerica                      4.50    -1.5%
Commerzbank AG                4.60     0.7%
Credit Agricole CIB           4.61     0.9%
Credit Suisse                 4.65     1.8%
Daiwa Securities America      4.65     1.8%
Danske Bank                   4.59     0.4%
DekaBank                      4.60     0.7%
Desjardins Group              4.53    -0.9%
Deutsche Bank Securities      4.75     3.9%
Exane                         4.60     0.7%
Fact & Opinion Economics      4.65     1.8%
First Trust Advisors          4.52    -1.1%
FTN Financial                 4.63     1.3%
Goldman, Sachs & Co.          4.57     0.0%
Helaba                        4.60     0.7%
High Frequency Economics      4.75     3.9%
HSBC Markets                  4.70     2.8%
Hugh Johnson Advisors         4.60     0.7%
IDEAglobal                    4.65     1.8%
IHS Global Insight            4.60     0.7%
Informa Global Markets        4.62     1.1%
ING Financial Markets         4.62     1.1%
Insight Economics             4.50    -1.5%
Intesa Sanpaulo               4.60     0.7%
J.P. Morgan Chase             4.65     1.8%
Janney Montgomery Scott       4.44    -2.8%
Jefferies & Co.               4.65     1.8%
Landesbank Berlin             4.60     0.7%
Landesbank BW                 4.55    -0.4%
Market Securities             4.79     4.8%
MET Capital Advisors          4.63     1.3%
Mizuho Securities             4.64     1.5%
Moody's Analytics             4.64     1.5%
Morgan Stanley & Co.          4.55    -0.4%
National Bank Financial       4.65     1.8%
Natixis                       4.65     1.8%
Nomura Securities             4.74     3.7%
OSK Group/DMG                 4.60     0.7%
O'Sullivan                    4.64     1.4%
Parthenon Group               4.65     1.8%
Pierpont Securities           4.50    -1.5%
PineBridge Investments        4.75     4.0%
PNC Bank                      4.60     0.7%
Raiffeisenbank International  4.55    -0.4%
Raymond James                 4.60     0.7%
RBC Capital Markets           4.50    -1.5%
RBS Securities                4.60     0.7%
Scotia Capital                4.61     0.8%
SMBC Nikko Securities         4.65     1.8%
Societe Generale              4.65     1.8%
Standard & Poor's             4.75     3.9%
Standard Chartered            4.62     1.1%
Stone & McCarthy Research     4.60     0.7%
TD Securities                 4.62     1.1%
UBS                           4.62     1.0%
University of Maryland        4.58     0.2%
Wells Fargo & Co.             4.80     5.0%
WestLB AG                     4.62     1.1%
Westpac Banking Co.           4.66     2.0%
Wrightson ICAP                4.57     0.0%
============================================