Lockheed's Biggest Customer Goes on an Energy Diet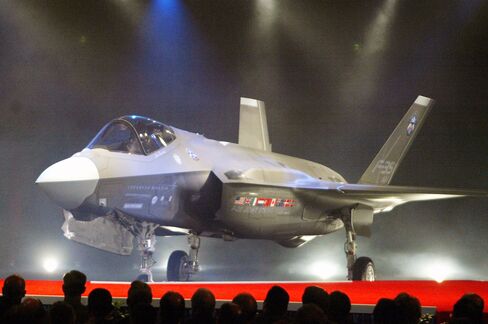 By Sophia Yan
The Pentagon is going on an energy diet.
The agency is facing $1 trillion in budget cuts over the next decade. As any U.S. car driver can tell you, the price of fuel is near record highs. For the Defense Department, there are also non-financial costs: As many as 3,000 U.S. soldiers and contractors were killed in fuel-supply convoys in Iraq and Afghanistan between 2003 and 2007. It's no wonder the Pentagon is taking a hard look at its fuel consumption.
For Lockheed Martin, the world's largest defense company, this means reinventing products and services for lean times. ``If it's not affordable, it's not sustainable," says Liz Porter, the company's director of corporate energy initiatives, in an interview at the Bloomberg New Energy Finance annual summit in New York. The amount of energy and water a particular material consumes is getting factored in to the designs of ships and planes that power the U.S. military. The Pentagon spends about $14 billion a year on energy, most of which goes toward fuels.
Even the Joint Strike Fighter, the most expensive U.S. government procurement program, received an energy makeover. The company replaced the aircraft's carbon fiber -- already an advanced material -- with an even lighter polymer, which makes it more energy efficient. ``Anytime you reduce weight in a ship or an aircraft, less fuel is used,'' Porter says.
Also important to the Pentagon's sustainable cost-cutting efforts is the issue of securing their contractors' supply chains. To ensure that key materials will always be available when they're needed -- even amid the disruptions of wars or natural disasters -- means redundancies in supply chains are necessary. For a buyer the size of the U.S. Defense Department, that can increase costs in the short term while reducing the long-term risk of supply shocks and price spikes.
Rare earth elements are a particular concern. About 97 percent of the global supply supply is controlled by China, which has curbed exports since 2009 causing prices to soar. Lockheed is seeking ways to balance the market. ``In some cases, we'll look at replacing them'' with other materials, Porter says. The company is also diversifying its suppliers, in India and elsewhere, to help find alternative sources of rare earths, "so that we can break down the monopoly that China may potentially have," Porter says.
-0- Mar/20/2012 19:41 GMT
Before it's here, it's on the Bloomberg Terminal.
LEARN MORE