Romney Illinois Drive Brands Santorum an Economic Rookie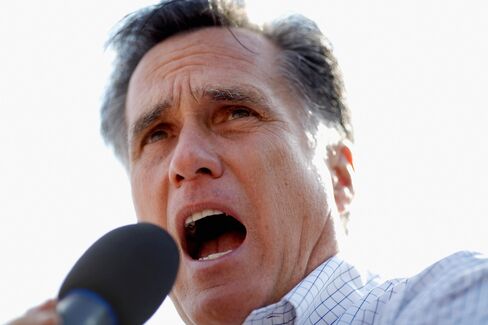 Republican presidential candidate Mitt Romney, pursuing his party's nomination in a prolonged race, is working to brand rival Rick Santorum as an economic "lightweight."
Campaigning in Illinois ahead of what polls show could be a close primary vote March 20, Romney toughened his critiques of Santorum, the former Pennsylvania senator who has emerged as his closest competitor, even as he keeps a focus on President Barack Obama, whom Republicans are trying to unseat in November.
"I don't think we're going to replace an economic lightweight with another economic lightweight," Romney said at the Machine Shed Restaurant in Rockford, Illinois, referring to Santorum, 53, and the president. "To beat Barack Obama, it's going to take someone who understands the economy in his bones, and I do, and I will beat him with that understanding."
Romney, 65, plans an economic speech midday tomorrow at the University of Chicago -- where Obama once taught law.
Romney swept Puerto Rico's primary today, the Associated Press reported, as both he and Santorum turned attention to contests in Illinois and then Louisiana.
Santorum today tried tying Romney to Obama, calling him a "weak" candidate whose policies mirror the president's on issues including health-care mandates and federal bailouts.
"I feel like I am doing a training run for the general election," Santorum said today on ABC's "This Week" program. "The same issues I'm out there campaigning on against Governor Romney are the same issues I'm going to campaign against Barack Obama on."
Puerto Rico
Romney hailed his victory in Puerto Rico -- by a margin wide enough to claim all of its 20 delegates for the party's nominating convention -- during a stop in Vernon Hills, Illinois, where he suggested it shows he can appeal to a constituency central to defeating Obama in November.
"I intend to become the nominee, and I intend to get Latino voters to vote for a Republican, and take back the White House," Romney said.
Ann Romney, appearing with her husband at the town-hall meeting, said it's time for Republicans to unite behind Romney.
"We need to send a message that it's time to coalesce," she said. "It's time to get behind one candidate and get the job done, so we can move on to the next challenge, bringing us one step closer to defeating Barack Obama."
Closing the Deal
Romney "hasn't been able to close the deal and even come close to closing the deal -- that tells you there's a real flaw there," Santorum said. "We can't nominate such a weak candidate in the general election."
Romney, a former Massachusetts governor and second-time presidential candidate, also appeared on national television, brushing aside concerns that his rivals staying in the race might deny him the chance to amass the 1,144 delegates needed to secure the Republican nomination.
"I can't tell you exactly how the process is going to work, but I bet I'm going to become the nominee," Romney said on "Fox News Sunday." "I sure hope I'm going to become the nominee, and if I am, I'm going to be a strong nominee."
With the party's race lasting longer than some Republican officials initially predicted, former Republican National Committee Chairman Haley Barbour underscored the unpredictability of the race, telling ABC News that he had cast his own ballot in the March 13 Mississippi primary for former U.S. House Speaker Newt Gingrich out of personal loyalty.
"Santorum may go on a tear starting in Illinois, who knows," Barbour, who decided last year not to seek the nomination, told ABC. "I don't think anybody's got it wrapped up, so that means everybody's still got a chance."
Only 'Half-Time'
Reince Priebus, party chairman, said he wasn't worried about the possibility of a nomination fight on the floor of the Republican National Convention in Tampa in late August.
"We're only at halftime," Priebus said. "We're not making plans for a brokered convention."
Later in the day, Romney campaigned in Illinois, where he's seeking a win to bolster his frontrunner status. Santorum, meeting voters in Louisiana, looked forward to that state's March 24 primary as a chance to score another Southern victory that might keep him in the delegate hunt.
Delegate Chase
Romney has 501 delegates to Santorum's 253, according to the latest projection by the AP. Gingrich trails with 136 delegates, the AP says, while Texas Congressman Ron Paul has collected 50.
A Chicago Tribune/WGN-TV poll released last weekend showed Romney and Santorum in a tight contest in Illinois, with Romney drawing support from 35 percent of likely voters, Santorum 31 percent, within the survey's 4 percentage point margin of error.
"He's going to do well here -- I'm cautiously optimistic," said Dan Rutherford, the Illinois treasurer who is chairing Romney's campaign in the state. "It adds to the whole psychology, the whole momentum, and those kinds of things -- the fundraising and so forth," in addition to Romney's delegate count.
Romney performed better in the poll among Illinois voters in the suburbs around Chicago, as exit polling has shown of his support in other states, while Santorum held the advantage outside the state's largest metropolitan area.
Santorum has pointed to the phenomenon as proof that Romney doesn't appeal to the core of the Republican Party.
"It almost looks like a Republican versus a Democrat when you look at these states, and he's winning the areas Democrats win, and I'm winning the areas Republicans win," Santorum told voters in Osage Beach, Missouri on March 16. "Does that tell you something, maybe?"
Romney's campaign cash advantage and his backing by many of Illinois' top Republicans, including Rutherford and Senator Mark Kirk, lend him an edge. Following the close margins by which Romney defeated Santorum in Michigan and Ohio, a victory in Illinois would be significant for momentum in the race.
1890 or Jdavis159@bloomberg.net.
Before it's here, it's on the Bloomberg Terminal.
LEARN MORE