Crude Peaking to Cut Lukoil by 10% to Quesnell: Russia Overnight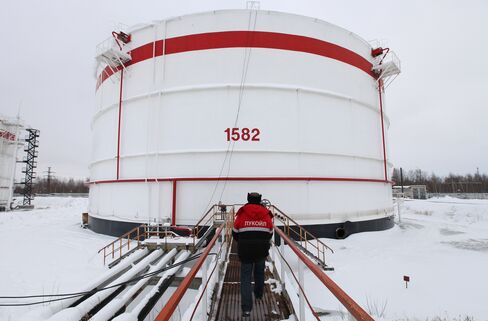 OAO Lukoil and OAO Gazprom Neft may retreat as much as 10 percent over the next few weeks as waning concern over tensions with Iran brakes oil's advance, according to Quesnell Capital SA.
Lukoil, Russia's biggest non-state crude producer, has jumped 22 percent in U.S. trading in 2012, while Gazprom Neft, the oil arm of gas export monopoly OAO Gazprom, has added 12 percent as Iran's threat to shut the Strait of Hormuz, a transit route for a fifth of the world's oil, pushed Brent crude above $125 for the first time in nine months. Futures expiring in June on Moscow's dollar-denominated RTS Index were little changed at 169,455 in U.S. trading on March 16.
Bets that Brent will continue to rally have dropped from a seven-month high reached on March 9 and options on West Texas Intermediate, the most liquid oil contracts, show traders are paying less to insure against price swings, data compiled by Bloomberg show. Concern that a reduction in Iranian exports will cut global oil supply is dissipating as the U.S. and U.K. mull releasing strategic reserves and Saudi Arabia, the world's biggest crude exporter, says it can make up for shortages.
"We've already seen a slowdown in the oil rally, I would expect some weakness in the oil stocks," Ian McCall, a managing partner in Geneva at emerging-markets investment adviser Quesnell, which oversees 100 million Swiss francs ($107 million) including Russian assets. "Once the rally tops, we may see a 5 to 10 percent pullback in Russian oil stocks over a couple of weeks."
VimpelCom Downgrade
The Bloomberg Russia-U.S. 14 Index fell 0.3 percent to 111.28 on March 16, leaving the gauge of Russian companies listed in New York little changed in the week.
VimpelCom Ltd. led declines on March 16, as the mobile operator with more than 200 million subscribers worldwide fell 3.3 percent to $11.04 in New York, the lowest since Feb. 2.
Moscow brokerage Otkritie Financial Corp. cut its recommendation on the stock to hold from buy after the company posted a net loss in the fourth quarter. The stock's target price was cut to $12 from $14, Otkritie analyst Alexander Vengranovich said in a report e-mailed on March 16.
The Market Vectors Russia ETF, a U.S.-traded fund that holds Russian shares, fell 0.9 percent to $32.62 in New York on March 16, down 0.3 percent in the week. The RTS Volatility Index, which measures expected swings in the index futures, was little changed at 31.33.
The number of call options held by traders to buy Brent crude was 1.56 times higher than put options to sell it on March 15, down from a seven-month high of 1.86 on March 9, according to data from the ICE Futures Europe exchange.
'Urgency' Diminished
"The urgency to buy calls has diminished considerably over the past couple of weeks," Ray Carbone, president of Paramount Options Inc. and a floor broker on the New York Mercantile Exchange, said by phone on March 15. A meeting between U.S. President Barack Obama and Israeli Prime Minister Benjamin Netanyahu on March 5 "has put what appeared to be a near-term Iranian strike maybe into the future a little bit more," he said.
Obama told Netanyahu that "there is still a window" for a diplomatic solution to the confrontation with Iran, which centers around concern the Persian Gulf nation is developing nuclear technology for weapons instead of energy use.
The U.S. and the European Union have imposed economic sanctions on Iran in an effort to persuade the country to produce conclusive evidence that it has abandoned any efforts to develop atomic weapons. Iran has said its nuclear program is for peaceful purposes.
'Outflow of Capital'
American depositary receipts of Moscow-based Lukoil rose 0.5 percent to $65.10 on March 16, bringing its gain last week to 2 percent. The stock fell 1.1 percent to 1,901.30 rubles, or the equivalent of $65, on Moscow's Micex Index. Each depositary receipt equals one ordinary share.
ADRs of Gazprom Neft slid 1.2 percent to $26.11 in New York, after its shares in Moscow fell 3.1 percent to 150.82 rubles, or the equivalent of $5.16. Each ADR represents five ordinary shares.
"If oil falls, there will be an outflow of capital, and the valuations of oil companies will decline," Andrey Polischyuk, an oil and gas analyst at Broker Credit Service, said by phone from Moscow on March 16.
Brent, which underpins pricing for Russia's Urals crude blend, will drop to $115.50 a barrel by the end of 2012, according to the median forecast of 34 analysts surveyed by Bloomberg.
CTC Audience Drop
Crude oil for April delivery rose 1.9 percent to $107.06 a barrel on the Nymex on March 16, the biggest one-day advance since Feb. 21. Prices fell 0.3 percent last week. Brent for May settlement gained 2.6 percent to $125.81 on the London-based ICE Futures Europe exchange. Urals, Russia's chief export blend, rose for the first time in three days, adding 2.6 percent to $123.09.
CTC Media Inc., the Nasdaq-listed Russian television company, fell 0.2 percent to $11.09 in New York on March 16. The company saw its share of viewers four-years-old and above drop to 7.4 percent in the week to March 11, from 7.6 percent in the previous week, according to TNS-Global data e-mailed on March 16. Among viewers 18 years and over, CTC came in fifth with a 6.6 percent viewer share, the data showed.